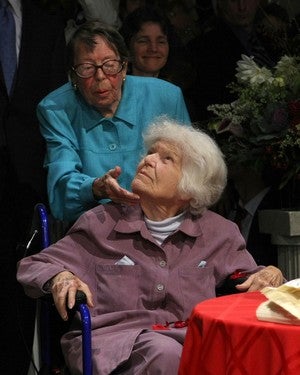 If ever there was an icon for the union of the personal and the political, it was lesbian activist Del Martin, who died yesterday at 87. Martin and her partner Phyllis Lyon cofounded the Daughters of Bilitis , the first lesbian rights organization in the US, and they also married each other twice, once during San Francisco's "Winter of Love" in 2004, and again on June 16 of this year in the first legal gay marriage in California. Of California's legalization of gay marriage, executive director of the National Center for Lesbian Rights Kate Kendall said, "It would not be happening if it were not for Del and Phyllis." Which turns out to be true of many advances in LGBT rights dating all the way back to the 1950s, and of a fifty-five-year partnership now receiving much-deserved public honor.It's kind of hard to find an LGBT cause — or women's cause, for that matter — in which Del Martin wasn't a pioneer. In addition to the Daughters of Bilitis, which hosted public forums, provided support to individual women, and published a magazine called The Ladder , Martin also helped found the Lesbian Mother's Union and America's first gay political club, the Alice B. Toklas Democratic Club. She campaigned to get the American Psychological Association to remove homsexuality from its list of mental illnesses, and she co-founded several advocacy groups for battered women. She also wrote the 1976 book Battered Wives , which the Midwest Book Review calls "the first (and still the best) general introduction to the problem of abuse." In its first chapter , Martin wrote,
The isolation of the battered wife is the result of our society's almost tangible contempt for female victims of violence. Until very recently, rape victims were believed to be guilty of precipitating the crime against them until proven innocent in a court of law. The rapist had been tantalized, led on, teased, played with until — who could blame him, the argument went — he lost control and forcibly took his temptress. Thanks to efforts growing out of the women's movement, these attitudes are being slowly chipped away. Hopefully, all rapists will soon be looked upon as sex offenders rather than victims of seductive women.
Martin's words still ring disturbingly true today, and rapists are still sometimes viewed as "victims of seductive women" — a powerful argument for the need to respect and remember Martin's legacy. She also wrote that "nothing was ever accomplished by hiding in a dark corner," and asked, "why not discard the hermitage for the heritage that awaits any red-blooded American woman who dares to claim it?" This heritage continues in the
hundreds
of lesbian couples who married after Martin, and in Phyllis Lyon, who says of her partner's death, "I am devastated, but I take some solace in knowing we were able to enjoy the ultimate rite of love and commitment before she passed." The two had been together since 1953. In
a 2003 interview
, Lyon said, "If we had a secret, we would have written a book and made a million dollars. We love each other, we have similar interests. Our lives were very similar even before we met." Finishing her partner's sentence as was reportedly her wont, Martin added "And we're both losing our memories at the same time." Martin was a groundbreaking advocate for lesbians, for abuse victims, and for women as a whole — here's hoping we never lose our memories of her.
Del Martin, 87; Longtime Leader In Gay Rights Movement
[LA Times]
Del Martin, Lesbian Activist, Dies at 87
[NY Times]
Lesbian Pioneer Dies Months After California Wedding
[Reuters] Related:
Lesbian Pioneers Wed At San Francisco City Hall
[CNN]
Del Martin And Phyllis Lyon: Partners in Love and Activism
[Noe Valley Voice]
Battered Wives
[Google]