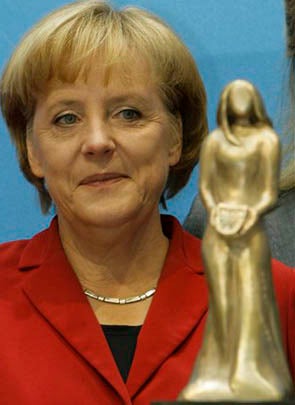 Forbes
just released its list of this year's
100 most powerful women
, and it's a fearsome collection of heads of state, captains of industry, and entertainment giants. Coming in at #1 is Germany's first female Chancellor, Angela Merkel, she of the towering intellect
(and towering cleavage)
. Another notable in the top ten is Indra K. Nooyi, the
head of PepsiCo
, who is the highest-paid female CEO in America and, as we previously mentioned, makes one-fourteenth of how much Larry Ellison, head of Oracle, pulled in last year.
Forbes
notes that fewer than 3% of of the country's biggest companies have female CEOs, and while women constitute 46% of the American labor force, they hold only 15% of the top corporate jobs.But in this unfortunate economic climate, that 15% is still hurting, as
Forbes
points out that many top women in business, like
beleaguered former Morgan Stanley exec Zoe Cruz
, have lost their jobs this year. There are, of course, still many impressive business bitches holding it down, including #8 Ho Ching, the head of Singaporean sovereign wealth fund Temasek, #18 Mary Sammons, the CEO of Rite Aid, #19 Andrea Jung, the CEO of Avon, and #60 Judy McGrath, the CEO of MTV. Angela Merkel is also in good company, with stateswomen like Argentinean President #13 Cristina Fernandez and deposed Myanmar Prime Minister/ Nobel peace laureate Aung San Suu Kyi, not to mention our girl Hillary Clinton at #28. The list isn't
all
politicians and businesswomen: Meredith Vieira (#61) edges out Katie Couric (62), Barbara Walters (63), Diane Sawyer (65), and Christine Amanpour (#91) to be the most powerful woman in news, and architect Zaha Hadid comes in at #69. Whatever their professions, however, these women are much more impressive feminist icons than
Candace Bushnell or Jenna Jameson.
100 Most Powerful Women
[Forbes] Earlier:
German Titocracy
the
Why Do We Know Lauren Conrad & Not Indra Nooyi?
Zoe Cruz Told Mortgage Traders To "Cut Losses," But They Thought She Was Just High On Crack