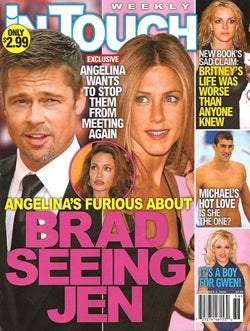 Welcome back to Midweek Madness. The tabloids are really stretched thin for news, which is why they're pretending like Jen's turning to Brad now that John The Player Mayer is out of her life. Oh, and you
know
things are bad when
Star
does the "Beach Bodies" issue.
In Touch
just
did one, and
Star
did a "Weight Winners & Losers" on July 30. The refreshing breath of gossipy freshness this week came from Miss Shannen Doherty, whose big mouth never fails to disappoint. In doing promo for the new
90210
, she also managed to talk smack about Tori Spelling and get snippy with the
Us
reporter interviewing her. Intern Margaret assists as we dance to the beat of
Life & Style
,
Star
,
OK!
,
Us
and
In Touch
, after the jump.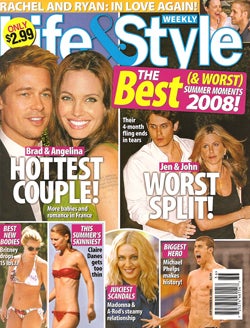 Life & Style
"Best (& Worst) Summer Moments 2008!" Usually as we're flipping through these magazines, we use Post-It notes to tag the pages we want to talk about. I got all the way to p 74 — the horoscopes — before realizing that I hadn't tagged a single page. A first, in the history of Midweek Madness. Congrats! Lots and lots of shoes; no news.
Grade: Z (a black hole of nothingness)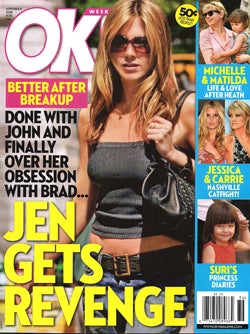 OK!
"Jen Gets Revenge." This story was actually titled "Looking Good Is The Best Revenge" and was about how Jen usually "shuns photographer's lenses" but now is "showing off her body" and "creating photo ops." Whatever. Next. Oooh,
Tim Gunn trashes this season's Project Runway contestants:
"They walk around telling each other how great they are and I keep saying to them, someone is gonna go home. We have Stella and her leatha, she's got to get away from that, and she's constantly defending, 'That's what I do.' Then you're nothing but a one-note. You'd better get prepared to pack your bags." Lastly: Bridget from
Girls Next Door
was overheard hinting that both she and Kendra are going to move out after this season is over, because Holly is Hef's main girlfriend. And next season features a huge wedding.
Grade: F (silence)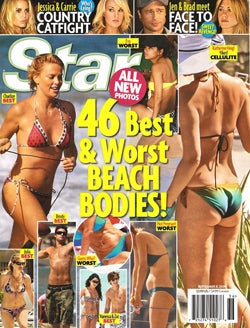 Star
"46 Best And Worst Beach Bodies." Even though the cover says "all new photos," Intern Margaret says there was not a single new photo.
A whopping sixteen pages of this issue are devoted to celebs in swimsuits.
Usually they hate on the women more, but there was a lot of nitpicking on the men: Dean Cain, Joel McHale, Leo DiCaprio and Kanye West were all "worsts." Selma Blair ("looking far from pin-up perfect") and Katherine Heigl ("less-than-perfect rear view") were two of the "worst" ladies. But!
Gordon Ramsay, Ian Ziering and James Van Der Beek are all in the "best" category!
Which makes sense! I am being sarcastic! Moving on: Britney and Kevin are fighting because Kevin wants to take this kids on auditions, but Britney wants them to have a normal childhood. They are 3 and 23 months and Kevin says it should be fine if they are watched closely and not pushed into it. Nicole and Joel are falling apart because Joel's been getting way too cozy with other girls while on tour. "She feels like she's the one doing all the parenting while he's out working," a source spills. Next: Remember
last week's
Star
, when Jen Aniston and Brad Pitt spoke on the phone? The next chapter of this story involves Jen feeling like she can have a relationship with Brad. A friendship, one that hopefully bothers John Mayer.
Apparently Jen was in NYC and went to Nobu, which is John's fave restaurant, and also went to the Met "as a secret message."
John used to say L.A. sucks because there are no museums and once asked her, "Do you even go to museums?" Anyway, as for Jen and Brad's friendship, a source says, "Brad promised that he'll try to meet up for coffee."
Grade: D- (polka)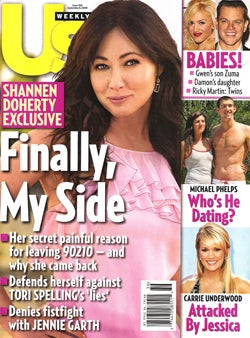 Us
"Finally, My Side."
Shannen Doherty gives a bitchy interview on the eve of 90210 2.0
. She says she decided to be on the new show because she is rich and she has two nice houses and "Everything I have is because of my fans. This was my way of saying thank you." Then the interviewer made the mistake of asking about Tori and the old
90210
.
"I have not spoken to Tori. I don't know what her deal is," Shannen says.
She also says she didn't read Tori's book and that she would never write a book about her castmates and that writing a book is "something you do in your eighties when you have no more chapters left." Plus! She says she's glad she is not blonde: "I'd hate to look like everybody else. I'm so happy I have dark hair." When asked if she knew that Tori and Brian Austin Green were a couple back in the day, she replies: "Didn't I just say I would never comment on another cast member? Don't ask me about the cast. Just don't." She's kind of awesome. This was good too: "I have a gap in the middle of my teeth, you know how many people wanted to cover that gap? My parents are like, don't you ever do that, that's what makes you different." Also inside: A "This Is Is Your Future" story featuring young Hollywood turning into older Hollywood (Fig. 1)
Courteney Cox and David Arquette went on vacay with daughter Coco and met up with Isla Fisher, Sacha Baron Cohen and their daughter Oliver, plus Leonardo DiCaprio, Tobey Maguire, Jen Meyer, and daughter Ruby.
The whole gang went on a boat to swim with sea turtles! Coco was like a big sister to Ruby and Olive. As reported in
dirt bag
, Matthew McConaughey's mom reveals her husband, Matt's dad, died while she was having sex with him: "On Monday mornings, he and I often said goodbye by making love. One day, all of a sudden, it just happened. I knew that something was wrong, because I didn't hear anything from him. Just nothing. But it was just the best way to go!" The answer to the cover question: Michael Phelps: Who's He Dating? is: No one. He says he wasn't making out with anyone in Beijing. There's a four page interview with Margaret Cho with details about her teenage date rape and her new TV show.
Grade: C+ ('80s pop hits)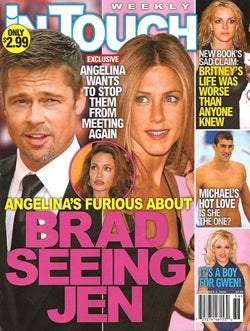 In Touch
"Angelina's Furious About Brad Seeing Jen." Brad is going to the Toronto Film Festival on September 5th for
Burn After Reading
and Jen will arrive two days later to promote her movie,
Management
.
"Angelina went crazy when she found out Brad and Jen will be in the same town at the same time."
The mag goes on to say: "Compounding Angelina's pain is the fact that she is feeling insecure about the baby weight that she is still carrying while Jen looks sexier than ever since her split from John Mayer." LOL. Plus! "Angelina is having a difficult time dropping the estimated 50 lbs. she gained while pregnant with Vivienne and Knox. She 'has zero sex drive because she hates her post-pregnancy body,' reveals the insider. 'She told a close friend that if Brad sees Jen looking as hot as she does right now, he could be tempted.'" Moving on: A new book by Ian Halperin called
Stalking Britney: Britney Under Siege
comes out around Christmas and claims that in January 2007,
after months of binge drinking and drug abuse, Britney took a large quantity of pills and washed them down with champagne.
He alleges that after that, she attempted suicide three more times: Once in Promises rehab facility, where she tried to hang herself with a bedsheet; and once when she considered driving off a cliff in the middle of the night. (The last one's not in the mag, you'll have to buy the book.) Apparently she was suspected of being bipolar when she was 9 but her parents ignored it. There's more:
Brit started doing coke at 16 and after her divorce, she had a $30,000 a week drug habit.
And! She wanted to hire a hit man to knock Kevin off when he wouldn't stop taking her to court. Next! Janet Jackson has a dilemma: She is 42. Should she go on a crash diet for her tour or take care of herself so she can have fertility treatments?
The guys on the set of Gossip Girl call Chace Crawford and Ed Westwick "Cha-Ed," pronounced "chay-ed."
Which is just weird. Oooh, pictures of Michael Phelps making out with some chick in Beijing days after winning his medals. Can't see her face, though!
Grade: B- (obscure '80s tracks)
Fig. 1