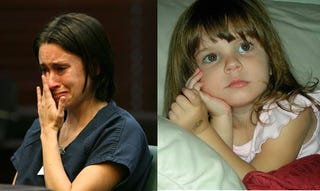 There's a new wrinkle in the case of missing Florida 3-year-old
Caylee Anthony
: court documents have surfaced which show that her 22-year-old mother, Casey, the prime suspect in Caylee's disappearance, tried to give her up for adoption in 2005. For those of you not familiar with this case, Caylee Anthony has been missing since June 9th. The police were not notified of the disappearance until July 15th, and that's only because Casey's mother, Cindy Anthony, discovered the toddler was missing and made her daughter
call 911.
Since that frantic call, several incriminating details have emerged that make Casey look incredibly shady, if not completely guilty, including a poem Casey wrote on July 7: "What is given, Can be taken away. Everyone lies. Everyone dies."More incriminating information: Cindy Anthony called the cops about her missing granddaughter because she found Casey's car and it stank of " a dead body in the damn car"; a neighbor said Casey tried to borrow a shovel in mid-June; Casey said she left Caylee with a nanny before she disappeared, but no one has lived in the address she gave for the nanny for several months; Casey has shown almost no emotion throughout this entire ordeal. And now, more on that potential adoption. Apparently the then 19-year-old Casey wanted to give Caylee up for adoption when she was born, but her mother wouldn't let her. Casey's high school friend, Kiomare Torres Cruz, wanted to adopt Caylee, but Cruz told police that after Casey agreed to the adoption, "she called me back saying that her mom pretty much has told her that no, she needs to keep the baby and that she's not giving it up for adoption. Even though she really did not want to have the baby." Casey's mother, Cindy, has been almost as consistently, publicly bizarre as her potentially homicidal daughter. First of all, Cindy has been a fixture on cable news and morning talk shows since Caylee's disappearance, seemingly eating up the press. It must be noted, however, that this is precisely the kind of story cable news networks eat up during those slow summer news doldrums (see the frantic coverage of Natalee Holloway's disappearance in 2005). Although she's been public with her mistrust of Casey, Cindy is still
allowing
Casey to stay at the family home, where she is equipped with a lojack and biding her time. A
detective said
to Casey recently, "Everything you've told us is a lie. Every single thing."
Court Documents: Mom Of Missing Fla. 3-Year-Old Tried To Give Girl Up For Adoption Years Ago
[AP via Newser]
Caylee Mystery Captures Public's Imagination
[CNN]
Caylee's Mom Leaves Jail, Pleads Not Guilty
[CNN]
Caylee Anthony Wasn't A Child Who Was Wanted, Court Records Show
[Orlando Sentinel]