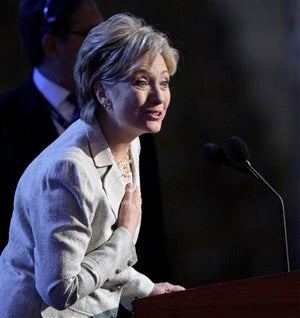 A year ago, common knowledge held that this year's DNC would be the Hillary convention, culminating in a coronation of the first female soon-to-be President. What a difference a year makes. Hillary Clinton will be speaking tonight in Denver on the 88th anniversary of women's suffrage, but as the losing candidate and not the nominee. And the bitterness that was on display at the end of her run has,
for some people
, not dissipated. So what
will
tonight change? Probably not very much.
McCain's been using Hillary Clinton's words — and some of her former supporters — to push his own candidacy, even as some of them march in protest in Denver but aren't planning on leaving their party utterly behind.
On the other hand, Clinton's speech tonight is expected to focus less on the history that she made and more on the reasons that McCain needs not to win in November. The catharsis her supporters have been looking for will likely come tomorrow during the roll call vote, rather than during tonight's speech. But, either way, there will always be some people willing to make fools of themselves for the camera — in this case, in support of a candidacy that is long-dead and a candidate-that-was who would probably prefer they follow her now in support of the party to which she's dedicated a good portion of her adult life. Feeding Gender Stereotypes [The New Republic] How Healed is Hillary? [Time] Clinton to Take Stage in Praise of Obama's Candidacy [Washington Post] Earlier: