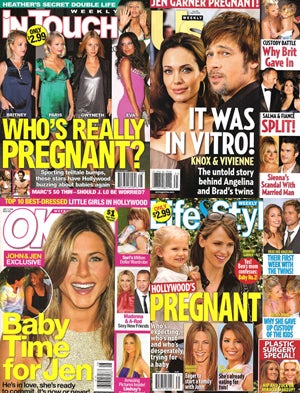 The New York Sun
is kind of the also-ran of New York papers, not exactly known for being groundbreaking, and frankly, I keep forgetting it exists. But it must be around, because Lenore Skenazy wrote
a piece
today called "Our Baby Bump Obsession," pegged to the birth of the all-healing Jolie-Pitt twin deities who, mere days after being welcomed onto this planet, earned $7 million a piece, much more than some of us will see in our lifetimes. Writes Skenazy: "Babies are hot." But with all the pregnancy updates and IVF info and keeping track of trimesters, she laments, "It has become hard to tell if you're reading a supermarket tabloid or
Gynecology Today
." And then there's all the tabloids, pointing at tummies, looking for a thing called a "baby bump":Skenazy writes:
Who'd ever heard the cute-as-morning-sickness phrase "baby bump" until about 10 years ago? I hadn't, even when my own bump looked like Rachel Ray. Now the bump's right up there with the Birkin bag - an accessory every tabloid feels compelled to comment on. "Is that a baby bump?" "Proudly displaying her baby bump ... " Or sometimes it's just an arrow excitedly pointing, "The bump," - as if they've found Osama.
Skenazy thinks that we, the public, dwell on babies — not just celeb kids but our own — because "they're our hobby, our status, our conversational calling cards, our Second Lives." Well guess what, lady? Some of us
do not give a shit
. Sure, the Jolie-Pitt kids are cute — the adopted and biological ones — but so are so are puppies and
platypi
. But there are no platypi on the cover of
Us Weekly
because all women are supposed to have BABY FEVER. I hate, HATE the predisposed notion that the lack of a Y chromosome means I must involuntarily drool at the sight of an infant. Cute babies are cute, but some of them look like undone suckling pigs that need to go back in the oven. This is coming from a woman with no pets and no plants, who finds it emotionally draining to be responsible for herself and is not, at this juncture of her life, in the mindset to care for another human, animal or snippet of flora. But the tabloids seem to think we all have BABY FEVER, that no woman is immune, that if you have ovaries then you're gonna want to hear about someone else's. I'm not into babies! Hopefully I would be, if they were mine, but they're not! They belong to rich people I have never met. And the only thing worse than being expected to give a crap about a random kid is giving a crap about a random maybe-possibly pregnant woman! Is it a
requirement
of femininity to care about celebrity children? Am I destroying the sisterhood if I don't give a fuck about Jen Garner's uterus? Why is it suddenly
mandatory
to be on "bump watch"? Am I the only one who just doesn't give a shit?
Our Baby Bump Obsession
[NY Sun]