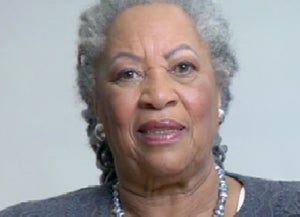 Former
New York Times
film critic Elvis Mitchell teamed up with acclaimed photographer and filmmaker Timothy Greenfield-Sanders on
The Black List
, a series of "living portraits" conceived by Mitchell as an "answer to the persistent taint that western culture has applied to the word "black.'" (Volume 1 of the series premiered last night.) Mitchell conducted interviews with a diverse collection of people, including Slash, Vernon Jordan, Serena Williams, and Chris Rock. But there were three interviews we especially liked: those with Toni Morrison, Thelma Golden and Suzan Lori-Parks.
It was absolutely fascinating to listen to Toni Morrison speak about why she writes. "Writing for me is the only free place," Ms. Morrison explains. "It's the only place where I'm not doing what somebody else wants or asks or needs. Writing is mine."
As for Thelma Golden, who was the art curator at the Whitney Museum and now heads the Studio Museum in Harlem, she talks about her love of art. "I became a curator at a moment when there hadn't been many black curators," she explains. She also mentions the fact that some people in the art world assume she "works for" Thelma Golden, not that she
is
Thelma Golden, since she's black. She speaks about the impact Jean-Michel Basquiat had on her, as well as working at the Whitney and the "legacy of exclusion" there. But Ms. Golden is upbeat: She believes that the definition of art in one's home should be "wide."
Suzan Lori-Parks won the MacArthur Foundation "Genius" Grant in 2001, wrote the screenplay for
Girl 6
and won the Pulitzer Prize for Drama for her play
Topdog/Underdog
in 2002. She talks about how many of the people who came to see
Topdog/Underdog
were young black kids with cell phones who felt like "active participants" in the theater. "We have to mine those riches," she claims.
It's interesting that Volume 1 of this documentary aired the same night that Michelle Obama gave a speech at the Democratic National Convention, where she was supposed to "redefine" what an American black woman is. It's often said that in this culture, a black woman is portrayed as a mammy, a ho/drug addict or a sassy best friend. And that's it. But obviously there are many different types of black women in America, many different types of black experiences. The DNC is planned well in advance; but so is HBO's schedule. Did they pit the two events against each other on purpose?
The Black List
[HBO]
The Black List HBO Air Date Schedule
[HBO]