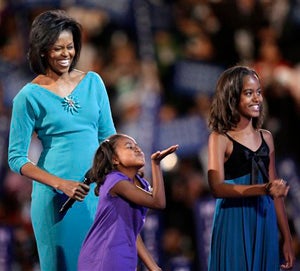 Oh, good God, it's early here in Denver and it was a late night last night but Spencer Ackerman and I are dedicated servants, so we dance, bitches, dance for your amusement despite the fact that we both think it might be sort of okay to die this early in the morning. After the jump, we talk about the parties, condoms, the venereal disease that is John McCain, Michelle Obama, race relations in America and the relevance of both Bell Biv Devoe and Sir Mixalot. (It's really early here in Denver, people.)

MEGAN: Hey, Spencer, long time, no see!
SPENCER: So when last we met, you were on your way to the Planned Parenthood party, where I suddenly opted not to pretend to be the guest-listed Adam Conner from Facebook. Speaking of Adam, I see he Twittered last night that he was at the Rock The Vote thing just in time to miss N.E.R.D. but catch Fall Out Boy. There is simply no way Planned Parenthood could have been worse than that.
MEGAN: Let us just say that when I did get in, the DJ decided to play Poison, which is great if it's late and everyone's drunk and happy, but it wasn't that late and I wasn't that drunk. I did get free condoms though. I snagged Jason Linkins' for you since he's married. The package says "Protect yourself from John McCain (in this election)." It's like he's a venereal disease!
SPENCER: When we at FDL thought we couldn't get in to the PPFA party, Jane Hamsher hatched a plan where she would promise to get me in by saying I knocked her up and was super-supportive during the abortion. Yes, during.
MEGAN: Dude, I don't think the girl with the list would've cared. She was harsh, for real. I saw her neg three guys from the Washington Post for being "only bloggers."
SPENCER: And yeah I have a bunch of those McCondoms. They handed them out to me at the Red Rocks Amphitheatre and I thought at first that they were either a) emblazoned with McCain on the shaft of your cock or b) for use on McCain.
MEGAN: I feel like novelty condoms with things written on them get as much use as light up vibrators.