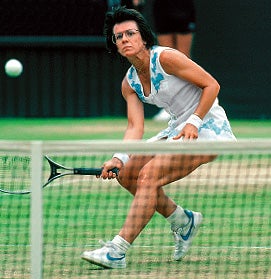 Billie Jean King was on NPR's
Morning Edition
today talking about the
impending 35th anniversary
of the "Battle of the Sexes" she fought with professional jerkface Bobby Riggs. For those too young to remember, Riggs, an aging tennis star, challenged King to a tennis match, saying he would beat her because women are too weak to compete against men. Well, Billie Jean handed Riggs his ass in three straight sets, and it was a
very public victory
for all women in sports. Flash forward to now, and the battle of the sexes is no longer about athletic prowess: on the college level at least, it's about athletic funding. According to the
Wall Street Journal
,
some think
that money going to female athletes is making it hard for college athletic programs to provide for less popular men's sports, like gymnastics.China beat the U.S. in the medal count this year, and according to the
Journal
, " while Chinese athletes rely on state sports schools," the men's gymnastic team at Arizona State, which has lost school funding, depend on their own fund raising to continue training. Some schools are choosing to implement Title IX, which forces colleges to spend the same amount of money as men's and women's sports, by the gender breakdown of their entire student body. In other words, if a school is 54% female, then 54% of their athletic budget goes to women's sports. It seems to me that more of the blame should be placed on the football teams that eat the bulk of the men's sports budgets at many large universities. But, as the
Journal
points out, the Arizona State athletic department chose to cut gymnastics and two other sports that were Olympic feeders "because, unlike the football program, they don't generate much revenue. The department's $41 million budget depends on ticket sales, team souvenirs, event parking and other game-related revenue, about half of which comes from football." And ultimately, shouldn't we be more concerned with the cut backs on the academic side of the fence when there is a finite amount of university money to be shared? When it comes to choosing between a men's gymnastic team or paying a few more writing teachers, it doesn't seem like a tough decision to make.
Cutbacks In College Sports Risk U.S. Olympic Future
[WSJ]
Billie Jean King Remembers 'Battle Of The Sexes'
[NPR]