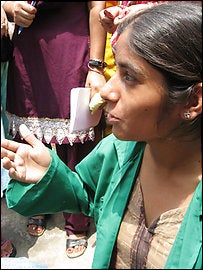 In the past few months, New Delhi, India, has been dubbed the "rape capital" of South Asia. "The latest statistics are terrifying. And it clearly points to male rage," Shobhaa Dé, a novelist and popular social commentator, tells the Washington Post . "Underneath our incredible social change, the Indian male is experiencing nothing short of a psychological frenzy." The Post 's Emily Wax speaks with 17-year-old Gitanjali Chaudhry (pictured), who walks to high school with a bag of chili powder and a pouch of safety pins in order to defend herself against the men who follow her to class. "We learned that women have to be brave," Chaudhry says. "We thought opportunities were getting better for young Indian women. But the harassment only seems to be getting worse." The harassment — when men make lewd comments or paw women's bodies — has a name in India: "Eve teasing."Wax writes:
Violence against women is the fastest-growing crime in India, a recent study concluded. Every 26 minutes a woman is molested, every 34 minutes a rape takes place, and every 43 minutes a woman is kidnapped, according to the Home Ministry's National Crime Records Bureau.
Women's groups claim only a small percentage of rapes are reported. Interestingly enough, as India celebrates 60 years of independence,
Time
magazine takes a look at some of the people who are leading the country into its next six decades. And naturally, some of them are women:
Mayawati
, the politician from the "untouchable" caste;
Sunita Narain
, an environmentalist;
Sonia Gandhi
, a popular, Italian-born Catholic who married into a famous family; and
Aishwarya Rai
, the biggest Bollywood star. Do successful women in the public eye make it easier or harder for "ordinary" women like Gitanjali Chaudhry (who wants to finish school and be a lawyer, but sometimes stays home when the harassment gets too bad) to find success? Will the male backlash create an atmosphere in which women just give up? And how many males in India are like 21-year-old Raja Kumar, who says, in the
Post
: "I was never really taught how to act around a girl. I thought teasing was the way to get them to notice me."
In India, New Opportunities for Women Draw Anger and Abuse From Men
[Washington Post]
India's Most Influential
[Time] Earlier:
Big Deals
Indian Woman Producing Change And Controversy In Equal Amounts