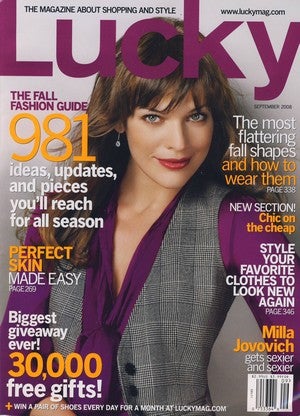 MagazineLiteracy.org
sponsors
KinderHarvest
, a program that distributes used magazines to homeless and domestic violence shelters. Great idea, right? It was, until
Condé Nast
got involved. The company
recently provided
KinderHarvest with 11 boxes — of
Lucky
Magazine. Is this kind of an insensitive donation, given that
Lucky
's pages are chock full of expensive products and not much else? MagazineLiteracy's blog, Subscribe to Literacy, says no — because
Lucky
is aspirational!"The question is often raised whether a homeless, or hungry, or battered person can really appreciate or enjoy a lifestyle magazine like
Lucky
, filled with page after page of glorious, though seemingly irrelevant or unattainable trinkets," writes John Mennell at Subscribe to Literacy. To answer it, he turns to his own experience: "I may never own a 75 foot yacht, but my smile widens at the sight of a magazine cover filled with a classic sailing vessel bent windward." A blogger in his comfortable house dreaming of a yacht may not be in the same situation as a homeless person flipping through
Lucky
, and
Lucky
may actually be the worst magazine for homeless people because its advertorial pages are barely even interrupted by articles. But don't worry, says Mennell — wanting stuff is empowering:
For ourselves, we may wish to see things, not as they are today, but as they can be tomorrow. [...] It is not necessarily so much in their colorful, material glamor that magazines of any type create value for new readers. But, in in the access; the availability; the reach; and the freedom to read about those things that bring knowledge, pleasure and joy. In this, we are created equal.
Just as middle-class women are supposed to read
Vogue
in the hopes that they too will someday be able to afford a $64,000 gold-dipped fur, homeless women are supposed to read
Lucky
and dream of the day they can purchase a $198 Leather "Tenderness" boot by Arthur Chiang (p. 280). I get that someday having independence to buy your own stuff could be an important dream for someone who is unhoused, but if you scratch Mennell's argument you get the one women's magazines and their advertisers have been making since time immemorial: that we should aspire to have more stuff, that currently-unattainable clothes and accessories are somehow a symbol for our future happiness. Not only does this mindset encourage us to buy things we actually can't afford — a practice that may have rendered many people homeless in the first place (cf. subprime mortgage crisis) — it also perpetuates the culture of never-enoughness that is a huge problem for women. We've said this often, but it bears repeating — some of the ugliest messages about female beauty come from "wonderful" women's magazines like
Lucky
. Sure, they have some lovely clothes, but I never feel as insufficient — or in as superficial a way — as I do when I finish a month's crop of them. They always make me feel that my greatest flaws are physical, and the best solutions are monetary — a brand of insecurity that seems particularly damaging for homeless or battered women. So while I applaud Condé for donating something, I can't say I like their choice.
A Lucky Day For Magazine Literacy
[Magazine Literacy]