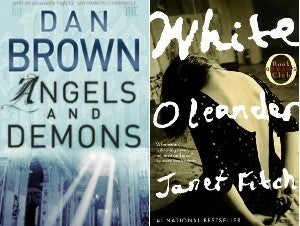 A woman in Grafton, Wisconsin was
arrested
for two overdue library books (
Angels and Demons
and
White Oleander
) and plans to never give them back after she paid a $170 fine. • A points-based credit card company, Nectar Business, has found that 1/3rd of women say
they enjoy attention from construction workers
. Amazingly random
and
unscientific! • Should new parents
give away their pets
when they have a baby? • A new children's book,
The Princess Bubble
, downplays the importance of
finding a handsome prince
to be happy. •• Five
interesting facts
about
Charlie's Angels
: The show was first pitched as
Alley Cats
and showed the women more negatively. • A poll from the UK's Channel 4 reveals that members of the
average British household
spends 34 minutes a day shouting at each other. • A tall woman discusses the lonely life of the
world's tallest woman
after her passing. • The city of Calgary, Alberta has OK'd the wearing of hijabs and sari's in
public swimming pools
, but the wearers will have to stay away from the deep end. • Can you tell a Marcel from a French wist? A beehive from a pompadour? Take
this quiz
. • Check out Wayne Titus and his daughter Tina Titus, a
father-daughter car-racing team
and the first father-daughter series champions at the Oxford Plains race.