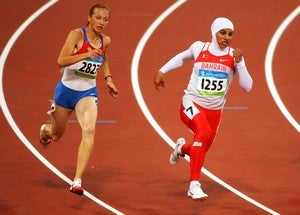 Today's Wall Street Journal
congratulates
Roqaya Al-Gassra for trouncing her opponents in a qualifying heat for the 200-m dash, all while wearing a hijab. Her country, Bahrain, sent just two women to the Athens Olympics, but this year they sent four. And women's participation in the Games is rising across the board — 42% of athletes this year are women, the highest percentage ever. Women are cleaning up in the
medal counts
too: As of today the US women have 50 to their male teammates 48, while Chinese women dominate with 54 to the Chinese men's 34. All this asskickery should be inspiring to all women, but coverage of female Olympians shows we still have a ways to go — especially when it comes to sports and motherhood.Last week we talked about
sexist coverage of female athletes' bodies
, but yesterday Morgan Felchner at
US News and World Report
brought up
a different issue: Olympic moms. Not
Debbie Phelps
this time; she's talking about the 20 women on the US Olympic team who are also mothers. She references a Sports Illustrated article called
"Mother Load"
which profiles some of "the boo-boo-kissin', bedtime-story-readin' athletes who really put the family in the IOC's self-important phrase, Olympic family." These women are awesome, but Felchner points out they're still rare. "Just like in politics," she writes, "when a woman takes time out from her sport to give birth, it is equally as shocking." "These women don't expect praise for raising their children," she continues, "nor do they expect kudos when they come back to the sport after giving birth [...] They want to win gold medals and they do so with the support of their children and spouses." Articles like "Mother Load" — subhead: "balancing the demands of motherhood and Olympic competition can be heavy lifting, but Melanie Roach and a new generation of women are making it look easy" — highlight how combining kids and sports is an anomaly deserving of a special profile, when it should be totally accepted. "Until it's commonplace for women to have children and still do the stuff of their dreams," Felchner writes, "whether it's winning Olympic gold or the presidency, it's evident we have some work to do." With female athletes from around the world showing they can climb the medal stand just as well as men, it's a perfect time to emphasize that female athletes are entitled to the balance of public life and family life that men have long taken for granted.
Sports Illustrated
deserves praise for showing that some of the best female athletes in the world can and do have children — especially when other media outlets are focusing on
sex in the Olympic Village
or
Jennie Finch's cleavage
. But let's hope that soon this truth will no longer need showing.
A Woman's Place Is Here
Olympic Moms and Pregnancy in Politics
Related:
Sex And The Olympic City
[Times of London] Earlier:
Gawking At Olympic Bodies, For Better Or For Worse
MagHag
Female Olympians Known For Their Brawn, Not Their Beauty