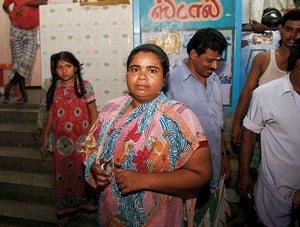 Around eight years ago, two-year-old Zabeen was playing outside a tea shop in India with her four year old brother when her mother (pictured at left) stepped away for a moment. A motorized rickshaw pulled up, someone snatched Zabeen, and she was given a new name, biography and paperwork. She was then adopted to an Australian couple through the Queensland Department of Families, Youth and Community Care. Her mother suspects she was taken because of her "pretty smile."
Time
magazine has
investigated
Zabeen's case and other Indian adoptions and found "alarming procedural flaws." It turns out that there was a gang of criminals who stole children — Zabeen was one of them — and sold many kids for 10,000 rupees ($280) each.India-based human-rights lawyer D. Geetha estimates that at least 30 of the nearly 400 Indian children brought into Australia in the last 10 to 15 years were trafficked. The
Time
investigation found dubious agencies, illegal practices, false signatures; stolen children shipped to wealthy countries. The children were processed through an adoption agency and orphanage known as Malaysian Social Services. According to
Time
, Australian authorities knew that MSS was a suspect agency. Its license was suspended in 1999 after one of its staff was arrested for handling four babies stolen from a hospital. Here's the problem: The chances of the biological parents reclaiming their children? Slim. Former Australian Family Court Judge John Fogarty says: "I wouldn't like to be acting for the Indian parents. You might get pro-bono lawyers, but the bottom line would be the best interests of the child, and that may be a one-way street. If you compared the position of the child in Australia returning to poverty in India, you would have to be a pretty dramatic judge to send a child back to the slums." Meanwhile, Zabeen's biological mother would love to see her: "I am yearning," she says. "I must embrace her." Let's just say for a minute you were an Australian judge. Would you send Zabeen back to her Indian family after eight years? Or would you let her stay with her new parents, who are "horrified" that they unknowingly adopted a trafficked child?
Stolen Children
[Time]
Children 'Kidnapped For Aussie Adoption'
[News.com.au] Earlier:
In China, Child Kidnappings Are An Equal Opportunity Affair