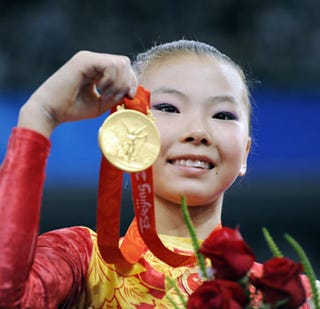 Even though the women's gymnastics competitions ended days ago,
controversy is still roiling
over the age of the Chinese gymnasts, specifically He Kexin and Yang Yilin. The IOC has said that there is no proof at this time that He and Yang are under 16, but that they want the International Gymnastics Federation to investigate the matter further. According to the
AP
, the Chinese coach, Lu Shanzan as well as He and Yang's parents are "indignant," and furthermore, Shanzan says, "They have faced groundless suspicion. Why aren't they believed? Why are their children suspected? Their parents are very angry."But the suspicion is not entirely groundless, the
AP
notes. "Earlier this month, the AP found registration lists previously posted on the Web site of the General Administration of Sport of China that showed both He and Yang were too young to compete. He was born Jan. 1, 1994, according to the 2005, 2006 and 2007 registration lists. Yang was born Aug. 26, 1993, according to the 2004, 2005 and 2006 registration lists. In the 2007 registration list, however, her birthday has changed to Aug. 26, 1992." In addition,
Time
linked
to blogger
Stryde Hax
, who found evidence on the Chinese search engine Baidu that official cached documents listing He's birth date as 01-01-1994 had been deleted. Below is a clip from this morning's
Today
show in which Meredith Vieira discusses the hubbub with journalist Alan Abrahamson, who thinks that the Chinese are far too sophisticated and well-versed in gymnastics rules to make the elemental mistake of leaving He's "real age" on a publicly accessible website: Despite Abrahamson's point about the Chinese sophistication in gymnastics circles, honestly? I think these girls probably are underage, but that the Chinese government will never, ever admit that they forged new documents for He and Yang to allow them to compete. If they bothered to lie in the first place, they're not going to admit the truth, even if the IOC does accuse them of foul play. How can they prove it anyway? Cut these girls open and look for tree rings? As the
AP
points out, China has falsified documents before, and "Even China's own Yang Yun, a double bronze medalist in Sydney, said during an interview aired on state broadcaster China Central Television that she was 14 during the 2000 Games." I think we might just have to echo Nastia Liukin's attitude about the entire thing. She said earlier this week about He, "She's an excellent athlete no matter how old she is."
Gymnasts' Parents 'Indignant' Over Age Questions
[AP]
Olympic Controversy Update
[Time]
Hack The Olympics!
[Stryde Hax]