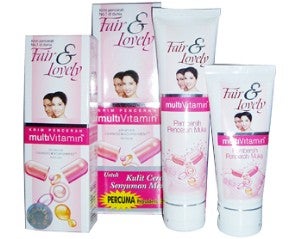 Skin-lightening creams - already popular in East and South Asia - are finding
a market in the Arab world
, where the commercials claim that darker skin is a hindrance any every aspect of a woman's life. • A new study from UC Davis claims that biracial Asian-Americans are
twice as likely
to be diagnosed with psychological disorders as "monoracial individuals." • A new police plan in Scotland may require men who are accused of abusing their wives to
be banned from alcohol consumption
and undergo regular alcohol testing. • Golshifteh Farahani, a top Iranian actress who recently appeared in
Body of Lies
was banned
from leaving Iran for Hollywood. •• The "
celebrity stock indices
" for famous females like Gisele Bundchen and Angelina Jolie outperform the Dow. • According to one Russian woman's
English-language wholly unscientific Google search
, post-Communist women from Russia and Ukraine all want foreign husbands. • The science behind
common food-related aphrodisiacs
reveals there is
some
truth behind the myths. • A baby whale who lost its mother off the coast of Sydney, Australia faces
judgment today
to asses if it should be put down by the National Parks authorities. • Don't read this account of
tortures inflicted on Tennessee walking horses
if you have a weak stomach. • The alleged 14-year-old wife of FLDS leader Warren Jeffs
has been sent to foster care
after a Judge order on Tuesday. •
Today in history
: Soviet pups made a safe landing after going on a journey in Space in 1960! • No, Olympic gold medalist Nastia Liukin
did not get to meet Michael Phelps
. But she will get a parade!