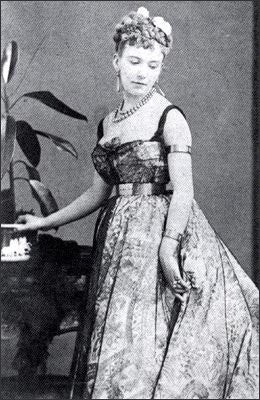 It seems like our fascination with the idea of "the courtesan" never gets old. The 39th-annual Rencontres d'Arles, France's most famous photography festival, features an exhibit on"
Les Insoumises
," the most important courtesans of the 19th century. The show, curated by designer Christian Lacroix, contains 30 calling cards and daguerreotypes of these "insubordinates" who, "unlike common prostitutes, refused to submit to police licensing or conventional morals. They were glamorous, venal and usually ended up badly but while the going was good they were celebrated, from before the Empire and after its end, by writers from Dumas fils to Maupassant and Zola." The images on display are primarily "cartes de visites" photographs, small calling cards that, in the case of the most notorious courtesans also served as souvenirs and, not incidentally, advertising."Les Insoumises" were a very particular brand of courtesan who managed to exist in a specific window of time before laws cracked down, "their trade became rigidly codified" and their existence became a shameful open secret. It's from this period that our idea of the classic 19th century courtesan springs, what Janet Flanner called "a venal, public pretty woman of enormous social influence who was customarily kept by a kind of cartel - three millionaires or two dukes - or by one royalty." In
Gigi
the old women reminisce about this golden age of the mistress. Famous courtesans like Liane de Pougy or Anna Deslions were as well-known as any celebrity, and afforded a certain respect. However, it's all too easy to romanticize these women. From
La Traviata
to
Camille
we are inundated with images of exquisitely manicured, wonderfully educated and refined creatures who bend men to their wills and exist as sexy eminences grises. While, yes, they did seize a measure of power for themselves in a men's world, and managed to have more autonomy than the average woman - certainly better lives than the average prostitute - they were still very much at the mercy of their powerful protectors. What's more, even during their golden age Les Insoumises were vulnerable, due to their visibility: "Le livre des courtisanes: archives secrètes de la police des moeurs [1861-1876]," by Gabrille Houre provides a comprehensive dossier of the exhaustive tabs agents and informers kept on anyone deemed Une Insoumise. And then too, it was a term people came to throw around loosely as a pejorative, tarring any reasonably independent with the backhanded insult of high-class courtesan; even respected actress Sarah Bernhardt rated a police file in the "Insoumises" dossier, a useful blackmail tool. It is a fine line, it seems, between respecting the gumption and courage of women in a very different time, and romanticizing what was, at the end of the day, still an unenviable existence. It does seem like the flippant use of the term "courtesan" - as in the case of "international escorts" like
Jet Set Lara
or
Kathleen Glyde
- can serve to obscure the realities of a profession that should not be glamorized and should certainly not be linked to some grand historical tradition, given how times have changed. While Les Insoumises were a fascinating subculture, and certainly notable case of historical lemonade-making, it's important to look beyond the glamor - for their sakes, M. Lacroix, as well as our own.
Les Insoumises, France's Rebellious Female Courtesans
[IHT]