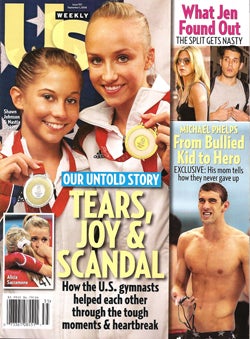 Welcome back to Midweek Madness! Let's play One Of These Things Is Not Like The Others, with
Us
as the obvious winner. While the other weekly covers feature Jen Aniston, Brad Pitt, Angelina Jolie, Tom Cruise, Katie Holmes and Britney Spears,
Us
went with the daring choice of Shawn Johnson and Nastia Liukin. Too bad the gymnastics finals aired last night, making a lot of this story old news! What else is going on this week? Brit's got her body back; Tom and Katie are living separate lives; Jen turns to Brad in her time of need; Brad storms off from Angie. Intern Margaret assists as we listen to the irritating sounds emanating from
OK!
,
Life & Style
,
In Touch
and
Star
, after the jump.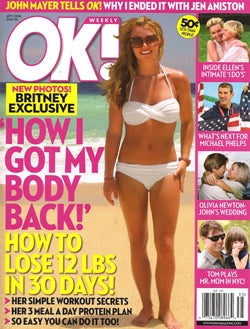 OK!
"How I Got My Body Back!" A Britney exclusive. With new photos. How to lose 12 pounds in 30 days. There are "exclusive" shots of Brit on a treadmill and sitting on a horse. Here's how to lose weight: Don't eat sugar, including fruit, and only eat 1200 calories a day. Have grilled chicken breast with raw organic broccoli for lunch.
Grade: F- (nails on a chalkboard)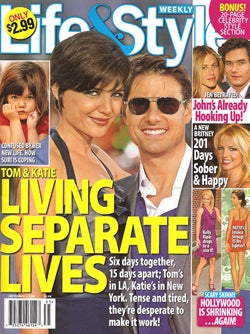 Life & Style
"Living Separate Lives." Actually,
the whole story is on the cover
: "Six days together, 15 days apart, Tom's in LA, Katie's in New York. Tense and tired, they're desperate to make it work!" Also inside:
Rare photographs of Scarlett Johansson kissing fiancé Ryan Reynolds!
(Fig 1.) Next: Britney has been sober for 201 days, can you believe it? It was January 3 when she was taken to the hospital in tears. How things have changed! Moving on: Joel Madden invited Mary-Kate Olsen back to his tour bus to show her pictures of Harlow. Then Joel told Nicole Richie about it on the phone and she freaked out. Lastly: A random quote from Calum Best re: Lindsay Lohan: "I hope I didn't turn her gay."
Grade: D (microphone feedback)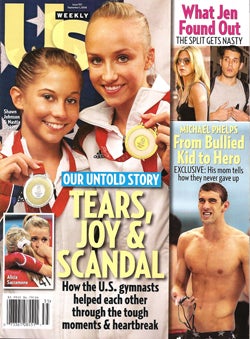 Us
"Tears, Joy & Scandal." Intern Margaret says that the info about Shawn Johnson and Nastia Liukin in this mag is only the "untold story" if you haven't been watching the Olympics on NBC. Plus! This story was written before the gymnastics ended (last night) so it's obviously not the
full story
. Moving on: Jennifer Aniston and John Mayer: "The Split Gets Nasty." Intern Margaret thinks Jennifer Aniston wrote this article. A "confidant" says: "This is not high school, but for some reason, John seems to think the whole world should know who ended the relationship." Another source says
Jen dumped John because she thought he was tipping off the paparazzi
to their location. Apparently things weren't totally dunzo until John made that long-ass video statement to the press. Now, a source says, "Consider the door slammed. Jennifer needs some time to herself. When she's ready, she needs to find a mature man, ready for a grown-up relationship." Noted.
Us
also points out that
OK!
repeatedly misled readers about Jen's love life (Fig. 2). Did you know that Lindsay Lohan is obsessed with Facebook? Next! Sharon Stone is dating a man half her age: She is 50, he is 25. Joel Madden was seen hanging out with Mary-Kate Olsen, whom he finds "amusing." Lastly:
Verne Troyer is getting his own reality show.
"It's about being a dwarf in Hollywood," he says. Imagine that!
Grade: D+ (dentist drill)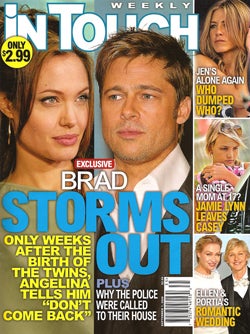 In Touch
"Brad Storms Out." Intern Margaret and I were
sure
that we had seen this cover before, but we could not find it. (We did find
"Brad Walks Away"
, also on
In Touch
.) This time, they're fighting because
Angelina's nerves are shattered and she might have post-partum depression.
Brad goes out drinking and she yells at him when he comes home late smelling like smoke. She made him sleep in another bedroom. But! The day after their "fight" they were seen at a restaurant in the South of France holding hands through dinner and being very affectionate. So. Next: The Jennifer Aniston post-breakup status: "She wasn't hurt at all. She feels fine." Also, "Mohawks run in the family" for Joel and Harlow Madden (Fig. 3).
Britney went to see Robin Thicke at the House of Blues in Hollywood and Justin was there with Jessica Biel!
Britney wanted to get his attention but Justin never turned around, so they left without ever seeing each other, sigh. Okay, so
The Hills castmates are fighting over money.
Lauren Conrad gets $75,000 per episode, which comes to $1.4 million for the entire season, but she says, "I couldn't even tell you how much my friends make." Lastly: Jamie Lynn Spears has either "walked out" of her relationship with Casey Aldridge or just gone to her mom's house to visit.
Grade: C- (shrieking children)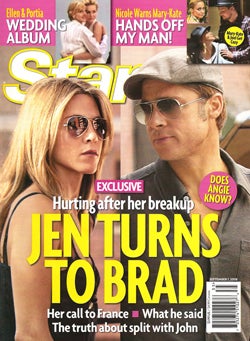 Star
"Jen Turns To Brad." See, Jen was upset about her breakup with John Mayer, so she called Brad's mom, with whom she has maintained a friendship. Brad's mom was at Brad and Angie's chateau in France. Brad
happened
to walk into the room and his mom handed him the phone, so he ended up comforting Jen in her time of need. A source says,"
He told her that John's probably not the right guy for her, he suggested that she stop trying so hard to meet someone before she turns 40.
He told her there is no deadline, that she is a beautiful, wonderful person and the right guy is out there." At the end of the call, Brad said, "Of course we're still friends, call if you need me." Angelina was happy Brad was there for Jen and she's okay with them being friends. Hahaha! Moving on: Jamie Lynn, Runaway Bride! After hearing that Casey was cheating on her, JLS has decided to move to L.A. with baby Maddie. Britney's encouraging it! One of Casey's friends told the mag: "Casey's the kind of guy who will come to your party, drink all your beer, hit on your girlfriend and bounce."
Eric "Dr. McSteamy" Dane and Rebecca Gayheart: Marriage on the rocks!
She's checked into Chateau Marmont. Blind item! "Which actress is mulling over getting a nose job after another minor surgery went so well? Sources say she plans to get her schnoz fixed and is already shopping for docs in NYC." Next: Ashlee Simpson-Wentz went to the doctor and found out she's gained more weight than is considered healthy. She freaked out and bought six pairs of size zero jeans as weight-loss motivation. She's
pregnant
, btw. Here's a great caption on a picture of Lindsay Lohan and Sam Ronson:
"Lindsay fell for Sam's protective nature, telling friends, 'She's the father I never had.'"
Brad and Angelina sent blushing brides Ellen and Portia a present and an arrangement of white orchids and roses in a crystal vase — with one yellow rose, symbolizing friendship. Close friend Ryan Seacrest missed the ceremony but made the reception. Lastly, and random: While Ryan Cabrera was with Ashlee Simpson, he was banging Audrina Patridge! He was cheating on both of them. It was all over by the summer of 2006.
Grade: C (creaky door)
Fig. 1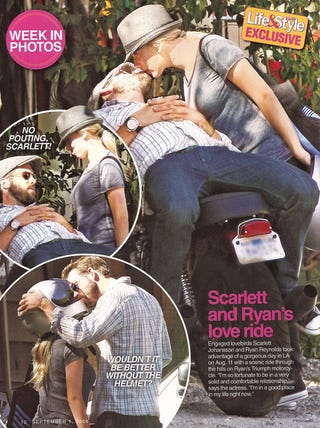 Fig. 2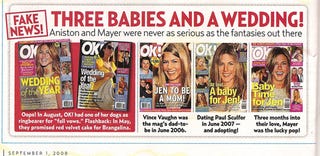 Fig. 3