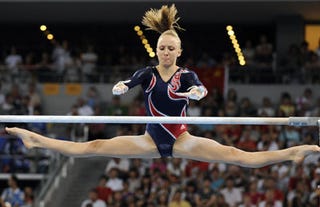 Last night, all-around gold medalist Nastia Liukin stuck the hell out of her landing after an excellent performance on the uneven bars. She earned an execution score of 9.025 and her routine had a 7.7 start value. For those non-mathletes, Liukin's combined score was 16.725. Those three scores were absolutely identical to the scores of Chinese gymnast He Kexin, but Kexin was awarded the gold medal, while Liukin walked away with the silver. If you're anything like me and the millions of other spectators, you're probably thinking: what gives? Well! There are no ties allowed in the Olympics, and according to
Sports Illustrated
, in the new scoring system
if a tie occurs
, it is first broken by start value…which in this case was identical. Then it's broken by the deductions taken by the middle four judges…which were also identical."The third tiebreak — hang onto your hats, for your brains are about to explode —was the average of the three lowest of the four counting judges' deductions. This is where Liukin lost,"
SI
reports. Famed coach Bela Karolyi discussing Liukin and the uneven bars on the
Today
show below, plus the results (spoiler alert!) of the balance beam competition. Karolyi, obviously, is biased, but his thickly accented outrage on behalf of Liukin in the
Today
clip above is pretty endearing. And he's not the only one to take issue with the decision, as
Sports Illustrated
columnist E.M. Swift called the gymnastics judging in Beijing "wildly erratic at best" and says that the scoring system needs an "overhaul." Nastia, though visibly disappointed, handled the situation with characteristic class. Even when reporters asked her about He Kexin's disputed age (in May she was identified in a Chinese newspaper as being 13,
SI
says), Nastia responded, "She's an excellent athlete no matter how old she is." Though the uneven bars were a disappointment for the American team, there is good news for all on the balance beam: Plucky Shawn Johnson finally won her first
gold medal
of the games, sticking her tricks on the balance beam "as if her feet had glue on them," according to the
New York Times
. Nastia won yet another silver with a solid performance. Check out Liukin's uneven bars performance
here
and we will link to Johnson's performance as soon as video is available.
Questionable Scoring, Tiebreaker Cost Liukin Individual Gold Medal
[SI]
Johnson Wins Elusive Gold On Balance Beam
[NYT]
Gymnastics: Event Finals, Uneven Bars
[NBC Olympics]