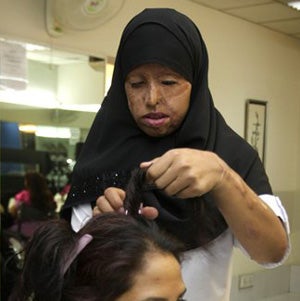 Saira Liaqat (pictured) and Urooj Akbar are 2 of the 240 kerosene and acid attack burn victims registered with the
Depilex Smileagain Foundation
[
Note: Yes, the story crashed their site, but it's an accurate link
],
profiled by the Associated Press
this weekend. Most of
the women served by the foundation
are victims of attacks by their husbands, rejected suitors or rapists and many are shunned and ostracized by their families for having the audacity to survive disfigurement and/or leave the men who disfigured them.The foundation was set up by Masarrat Misbah, the successful owner of the Depilex salon in Pakistan, whose work not only helped Liaqat and Akbar get training and find work in her salon (despite the complaints of some of her clients, who feel strange looking at disfigured women) but has helped them and more than 83 other women get the reconstructive surgery they need. Misbah was inspired to help disfigured women by a beggar outside of her salon, who was attacked by her acid-wielding husband. Liaqat knows a little about that — married to a stranger by her family at age 15, the arrangement stated that she would live with her parents until she finished school. He didn't like that idea, so he stopped by the house one afternoon 5 years ago and threw acid on her. He's currently in prison facing attempted murder charges, but they're still married. She's slightly luckier than Akbar, who was married by the age of 22 to an abusive stranger. After they had a daughter, he doused her in kerosene while she slept and lit her ablaze. Unlike Liaqat, she lacked the support of her family, so she never filed charges in her attack and her now-ex husband has sole custody of their daughter. Both women hope that their jobs in Misbah's salon will help them achieve self-sufficiency in a society that relies on husbands to provide for their wives. Lest anyone start in about this being cultural, or limited to Pakistan, we encourage you all to recall
the story of Yvette Cade
, a Maryland woman set ablaze by her husband while at work after she attempted to get a restraining order against him. Sadly for all of us, this kind of jealousy, possessiveness and abuse isn't limited to a country, a region or a religion.
Pakistani Women Burned By Acid Or Fire Rely On Beauty Of Others
[LA Times]
Portraits Of Brutality
[MSNBC]
Hargrave Sentences To Life In Prison For Murder Attempt
[Washington Examiner]