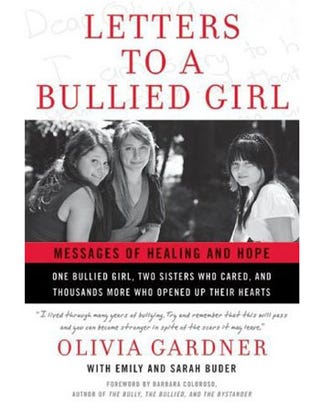 I saw the documentary
American Teen
over the weekend, and was shocked and saddened at the casual cyberbullying that took place. The film follows five Midwestern high school seniors for a year, and one of them, Megan, the richest and most popular girl in school, viciously mocks a "friend" who was naive enough to send the boy she liked pictures of her topless. Megan not only sent the photos around to everyone at school, but she called the girl on her cell phone to tell her what a heinous slut she was. Well, not all teens are that callous, even in the internet age, and sisters Emily and Sarah Buder are
teenagers who won't make you weep for humanity.
Two years ago, they heard about a girl in a neighboring Northern California town named Olivia Gardner who was cruelly bullied to the point where she was near suicide. "Her book bag had been dragged through the mud, her schoolmates had created an "Olivia's Haters" page on the internet, and they would whisper "Die Olivia" to her in the halls," the Buder sisters wrote earlier this month on the
Huffington Post
. "Olivia's story broke our hearts, especially when we learned that she was suicidal. We couldn't imagine such cruelty." They organized a
letter writing campaign
for Olivia so that she would feel less alone. And letters from near and far started pouring in. "Suddenly, we were thrust into the world of bullying, as we read the letters sent to Olivia by former bullies and targets of these bullies. We learned of the remorse adults felt having been bullies themselves in their teen years, and of the depression the targets of bullies still experience years after they have been bullied," the Buders wrote in
HuffPo
. Eventually they compiled the letters in a book that came out earlier this month, called
Letters To A Bullied Girl: Messages Of Healing And Hope
. Their book probably can't save all the
Megan Meiers in the world,
but it will probably make some of them feel less alone.
Letters To A Bullied Girl
[Huffington Post]
"Letters To A Bullied Girl: Messages Of Healing And Hope"
[Feminist Law Professors]
American Dream
[FourFour]