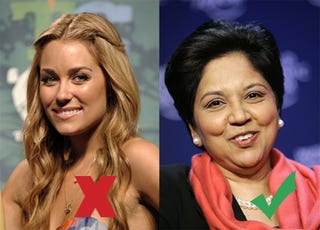 She doesn't live her life in the public eye or weep attractively on MTV, but Indra Nooyi is worth knowing about: She's the highest-paid female CEO in America. Ms. Nooyi, head of PepsiCo, took home a whopping $12.7 million (including $4.5 million in bonus pay) last year. It's serious cash, for sure. But it's
one-fourteenth
of how much Larry Ellison, head of Oracle, pulled in last year. His salary was a "modest" $1 million, but he had $182 million from vested stock options. A lesson: When you run one of the largest companies in the world, you don't make as much as the next guy… if you're a woman.
Forbes
reports
(via MSNBC) that when calculating the cash pulled in by male CEOs of America's largest companies, the average take, including salary and bonuses, for all 500 CEOs was $12.8 million -
double
the female average of $6.5 million. But one of the most interesting things about Ms. Nooyi and some of the other top-earning female CEOs — Andrea Jung (Avon), Anne Mulcahy (Xerox), Christina Gold (Western Union) — is that you never really hear a damn thing about them. Or maybe you do. Maybe you read the business section and the
Financial Times
and the
Wall Street Journal
. But maybe there just aren't as many stories about Ms. Nooyi and other female CEOs? A Google search turns up 93,100 results for Indra Nooyi; Larry Ellison returns 1,280,000. Lauren Conrad? 2,520,000 (Even Audrina Patridge gets 599,000.
Six times
Ms. Nooyi's number.) It's not that a Google search proves your worth, or that all those hits make Lauren Conrad a worthwhile person. It's just a way of asking: Why, in our escapist, entertainment-addicted society, do we place so much importance on certain women, when there are other hard-working ladies struggling to keep up with men in global business, where it really counts?
America's Highest Paid Female CEOs
[MSNBC]
Top-Returning Female CEOs (Slideshow)
[Forbes]