Last night's episode of
Project Runway
featured special guest star Brooke Shields, who was forced to pimp
Lipstick Jungle
, a TV show brought to you by NBC Universal, the company that happens to own Bravo. Synergy! The challenge was to design an ensemble for Brooke's character, Wendy, to wear from day to night. The contestants were given dossiers on Wendy because, you know, no one actually
watches
the damn show. (Last season they had Sarah Jessica Parker, an actual, you know, style icon. Poor Brooke Shields just felt like forced product placement.) To add drama, the designers had to pitch their ideas to Brooke; she chose six ideas and then the contestants had to work in teams. Terri told Suede to "man up." Korto told Joe there was a bus coming. Tim Gunn said, "Some of you are still sewing, question mark?" The best part had to be when the judges were discussing Daniel and Kelli's black, leopard and teal three-piece ensemble, which caused Michael Kors to quip "Slutty, slutty, slutty," and Kenley to dissolve into a fit of giggles. Clip above; all of the outfits from the runway after the jump.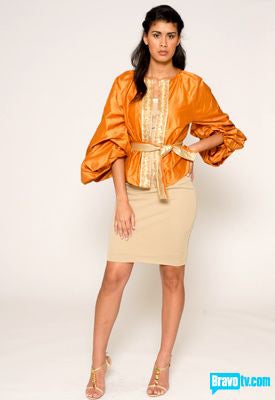 Korto and Joe created this sweet potato jacket with an ill-fitting strapless khaki dress beneath. I was not a fan. I felt like it was supposed to be luxe, sumptuous hippie chic, but ended up looking like somebody stole from the costume closet of a community theater's production of
As You Like It
.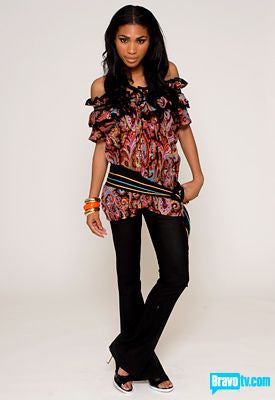 Suede and Terri's off-the-shoulder blouse was wearable, though not groundbreaking.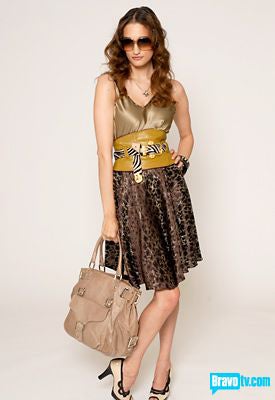 The judges loved Jerrell and Stella's dress, though Brooke seemed terrified by the belt. Heidi Klum was eyeing this like she was gonna snatch it.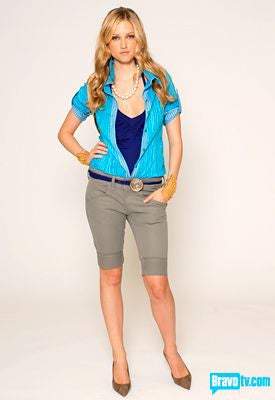 Somehow Blayne did not go home for this cheesy Lauren Conrad knock off. Leanne always looks like she's going to cry, but for once, she had good reason. And who styled this outfit? The pearls were dumb.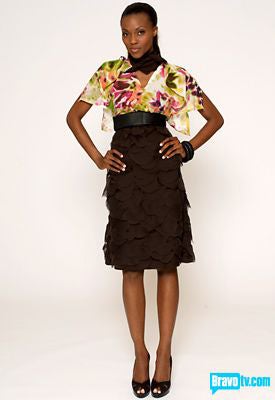 Keith dreamed up this confection, and Kenley helped with the execution… Although her taste in patterns is questionable: Did you
see
the floral she wanted? So glad she was overruled. This was the winning design, which you will not see on
Lipstick Jungle
because no one watches that show.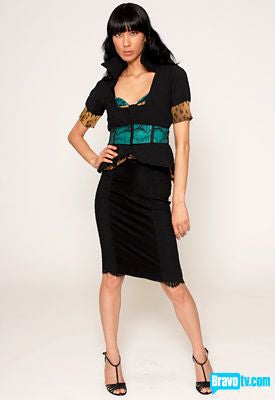 Here's the slutty slutty mess. I honestly don't think it's that bad. I liked the leopard on the inside of the jacket and the idea of the bustier. But it wasn't right for this challenge… Better on some kind of "Let's say Bettie Page had a twenty something personal assistant and she needed something for a work trip to Vegas" challenge. In any case, Kelli was auf'd, when we all know it should have been the loathsome Blayne. Sigh.
Project Runway Season 5
[Bravo]