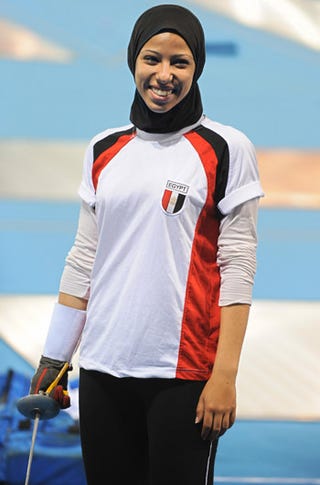 Some observers are calling for a revision of Olympic law to force countries — specifically Saudi Arabia and Brunei — to allow women to compete. Those are the only two countries who
forbid
women from competing in sports because, according to an op-ed in the
Washington Post
, "Ultra-conservative clerics have
deemed women's sports sinful."
Muslimah Media Watch, a blog that looks at the representation of Muslim women in popular culture, has a thoughtful round-up of links about Muslimahs in the Olympics. The blog quotse an
International Herald Tribune
article that argues, "While the hypothetical example of participating countries barring black athletes from the Olympic Games would have rightly caused international outrage, the committee continues to allow the participation of countries that do not allow women on their Olympic teams."Blogger Duniya at MMW contends that the Saudi and Brunei ban on women competing makes all Muslims look bad. "It is embarrassing that these Muslim countries have such a ban. Considering that most Muslim countries allow women to participate, Saudi Arabia and Brunei have no excuse to exclude women, other than misogyny of course. And in the meantime, all Muslims will once again be labeled as misogynist." As the
Washington Post
points out, many Muslim women competing in Beijing wear the headscarf (like Egyptian fencer Iman Shaban, pictured), so people who argue that a woman cannot compete in sports and remain modest are dead wrong. "Some of those Muslim female athletes in Beijing wore headscarves, as did Sheikha Maitha Bint Mohammed bin Rashid Al Maktoum, the 28-year old who carried the flag for the UAE and who will compete in tae kwon do," the
Post
notes. There seems to be some grass roots protesting going on, as Saudi women's rights activist Wajeha al-Huwaider has created a video decrying her country's ban on women in the Olympics. Al-Huwaider is already Youtube-famous for a video she made earlier this year,
where she drives
around the Saudi countryside, openly defying the ban on female drivers. Al-Huwaider's sports protest video is directly below.
Let The Women Play
[Washington Post]
Muslimahs At Beijing Olympics
[Muslimah Media Watch]
Bar Countries That Ban Women Athletes
[IHT]