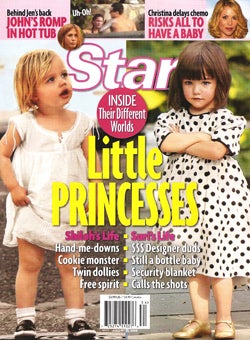 Welcome back to Midweek Madness, in which we digest the celebrity gossip in the weeklies so you don't have to. This week, the tabloids have the dreaded BABY FEVER. There are celebribabes on three covers, including the spawn of Britney. Jennifer Love Hewitt and her body get one cover, and Jamie Lynn Spears gets the other, with
In Touch
breaking the news that her 19-year-old baby daddy has a 28-year-old lover named Kelli. Intern Margaret assists as we strain to excrete what we've consumed in
OK!
,
Life & Style
,
In Touch
and
Star
, after the jump.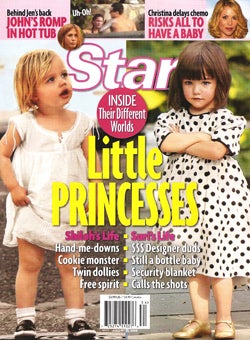 Star
"Little Princesses." Intern Margaret says, "The story is summed up on the cover." It's six pages comparing growing up Shiloh Jolie-Pitt to growing up Suri Cuise. (Shiloh: Hand-me-downs, cookie monster, twin dollies, free spirit. Suri: $$$ Designer duds, still a bottle baby, security blanket, calls the shots.) After reading about who likes Nutella and
Meerkat Manor
, here's what you glean:
Shiloh's the down-to-earth kid whose mom cuts her hair and who runs around the backyard getting dirty, while Suri gets salon cuts, throws a fit if her blanket is left behind and has a closet full of expensive dresses.
Suri picks out her clothes herself, except when the nanny helps. Moving on: Christina Applegate has been dating Martyn Lenoble for several months and she wants to have his baby. So even though she has breast cancer, she doesn't want to have chemo or radiation until she gives birth. Some doctor who doesn't treat her says pregnancy can help some early-stage breast cancer. Next: While in Los Cabos, Mexico,
John Mayer disappeared for a 25 minute walk with a young lady and came back smoking a cigar.
There are hot tub pix. The mag says: "The notorious ladies man may have sparked the stogie to celebrate a flash of freedom far from his 39-year-old girlfriend and her baby dreams." Egads.
Are Scarlett Johansson and Ryan Reynolds planning to get hitched this winter after ScarJo's birthday?
The mag says will it be a traditional Jewish ceremony in NYC. Madonna is mad at Britney because the pictures of Brit's "surprise" video for the Sticky & Sweet tour got leaked online and Madge thinks Brit's camp is to blame. Blind item! "Which hot TV actor was lying when he said he wasn't dating a certain reality star? Source say she recently visited him on set, where they spent 2 hours flirting with each other." Guesses? Lastly: Reese lost 20 lbs. "for Jake."
Grade: F (anal fistula)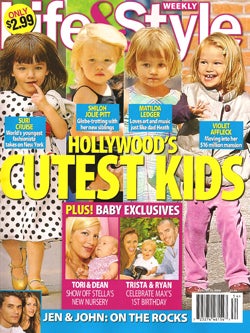 Life & Style
"Hollywood's Cutest Kids." An 11-page "special" with lots of pictures of celebrity babies. Suri Cruise gets a 2-page spread about going to
The Little Mermaid
on Broadway and going bowling in New York. All of the kids get tags; for instance: Maddox is "the daredevil," Zahara is "the globe-trotter," Apple is "The Clotheshorse." Valentina Pinault, Salma Hayek's kid, is "The Accessorizer." She is
11 months old
. Moving on:
Lindsay Lohan thinks of the Ronsons as "the family she never had" because they are close to each other and not fucked up.
She also changed her Facebook religion status to "I'm converting" so now there's speculation that she will become Jewish! Slow news summer. Next: Angelina's on a "race to get ready" for Brad Pitt's movie premiere August 27th. The movie is
Burn After Reading
and the mag claims Angie "wants to look like a trophy wife" on the red carpet so she's trying to lose 20 lbs. Insane on so many levels! There are newborn twins at home in addition to like a posse of other kids. Are we really supposed to believe she is worrying about her red carpet weight? Fuck.
Grade: F, but B if you LOVE baby pix. (self-correcting rectal prolapse)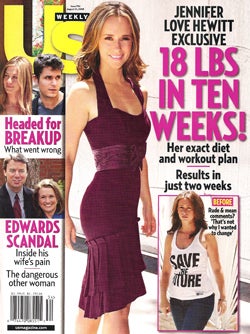 Us Weekly
"18 Lbs In 10 Weeks!" Jennifer Love Hewitt exclusive! There's a different picture from a different angle inside the magazine and her body looks different. Not as whittled down. In the six-page story, the mag talks to her trainer and discovers — shocker — that
Love Hewitt has been working out more and eating less
. If you're interested in her exact diet and workout plan, it's there, in all of its boring detail. (No carbs after 3pm.) Next: Are Jennifer Aniston and John Mayer headed for a breakup? (Did it
already happen
?) There are pictures of him in a hot tub with some chicks, looking smug and smoking a cigar.
Us
also calls out
Star
and
OK!
's "fake news" for running Jen/John baby and marriage stories last week. Also inside: In a 4-page story interview with Lauren and Lo about
The Hills
, the reporter compliments LC's runny mascara in the season 4 trailer. Lauren responds by naming the mascara and eyeliner she was wearing that day, which happen to be Avon, the company she reps. Ooh!
A picture of the transgendered contestant on the upcoming cycle of America's Next Top Model! Her name is Isis (Fig. 1)
. Lastly, Ali Lohan has, um, filled out. (Fig. 2)
Grade: D- (anal abscess)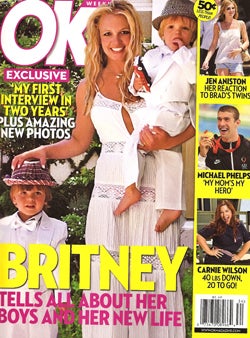 OK!
"Britney Tells All ABout Her Boys And Her New Life." Brit's "first interview in 2 years" is 8 pages long, with
new pictures of Jayden and whatshisface wearing white tuxedoes in the backyard
. Britney is wearing a white dress but it's like, a bikini cover-up that you can see through and the top is split from sternum to belly. The story is filled with the humdrum details of Brit's daily life: She reads the boys
Berenstein Bears
books. There's kiddie artwork on the fridge. She makes them pancakes. Intern Margaret says, "It's chock full of details, but they're details you don't care about. She seems healthy." Brit says she has a good relationship with her mom now and and appreciates her more. It ends on a hopeful though frightening note: Britney is writing a lot of songs for her new album. Next: The first line of the "Suri & The City" story reads, "Move over Carrie Bradshaw, there's a new trendsetter in town!" More on ScarJo's wedding:
Even though Scarlett has said she has no immediate plans to get married, she was spotted reading InStyle Weddings & Brides
, and an spy says "You could tell that she had earmarked pages." Plus! She totally wore white to a movie premiere! Lastly: "Is Lindsay A Faux-Mosexual?" She was seen flirting with guys. She's also "the aggressive one" in her relationship with Sam.
Grade: C- (anal fissure)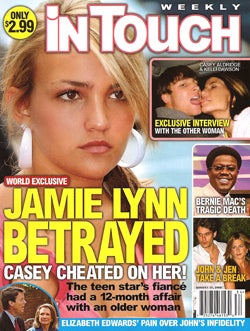 In Touch
"Jamie Lynn Betrayed."
The mag tracked down Kelli Dawson, 28, who claims she had a relationship with 19-year-old Casey Aldridge, 17-year-old Jamie Lynn's fiancé and baby daddy.
Kelli, 28, yes, 28 years old, is photographed in virginal white wearing a wooden cross around her neck. She says: "I still love him and I think he loves me." They were still sleeping together when JLS was six months pregnant with Casey's baby. Kelli says, "I see him all the time, at least once a week." They live in the same town. "I think that he's trapped," Kelli sighs. She also says: "When I see Jamie Lynn doing interviews and talking about how happy she is with Casey, it seems so fake. She is trying to paint a pretty picture, but it's messy art." Truth! Moving on: The "Jen And John Take A Break" story has more hot tub pix. Page 6 of this issue has a poll question, "Are you surprised that Britney hasn't had sex in 7 months?" (Fig. 3) It makes little sense until you get to page 56, where you find a story called "Seven Months Without Sex!" So basically,
Britney's been working out instead of getting laid.
Also she's been living with her dad. Dr. Drew says: "With bipolar, you become hypersexual. Before Britney began treatment, sleeping around with different men could have been the result of the manic state she was in." Britney joked to a friend: "How do you make out with a guy while your dad watches?" Next:
Nicole and Joel have hit a rough patch.
She's living in his house in Glendale and feels likes she's stuck in the suburbs. She wants to move back to Hollywood! Also, is her baby daddy helping enough? While on tour, Joel said: "It's hard to be on the road, but I have a great girl and she takes care of everything." Lastly: Guy Ritchie gave Madonna a $100,00 Rolex Masterpiece in tricolor 18K gold, surrounded by 42 brilliant baguette cut diamonds, the "ultimate timepiece."
Grade: C (hemorrhoids)
Fig. 1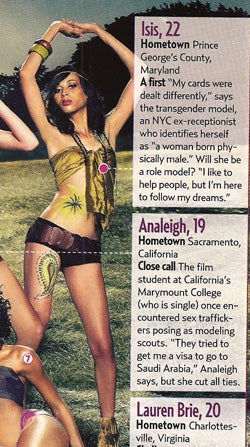 Fig. 2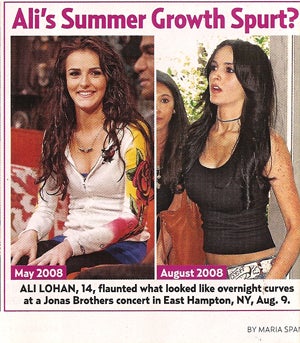 Fig. 3