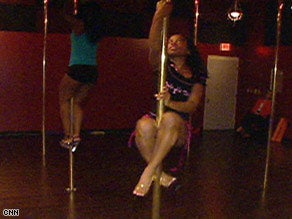 Today, CNN has a
story
about how pole dancing helps "strip off pounds." Have you heard that pole dancing is a good workout? You must have: A quick Nexis search shows a whopping
999
news articles about "pole dancing workouts" have been published in the last
two years
. There have been pieces in
Ebony
, the
Orlando Sentinel
,
Star-Ledger
of Newark, NJ, Tampa
Tribune
, Detroit
News
, Witchita
Eagle
, Chicago
Daily Herald
,
Orange County Register
, Fresno
Bee
,
Daily Star
in the UK and on ABC News. Who will write number 1,000? What is up with the stripper fetish in the media? And if pole dancing is such a good workout, how come
men
don't do it?Actually, when searching Nexis for "pole dancing workout" and "men," one discovers that pole-dancing studios and classrooms have a "no men" policy. The women don't want to be gawked at or made to feel uncomfortable, because, you know, wrapping yourself around a metal pole is a totally natural female impulse but
private
, mmkay? In the CNN story, a nurse named Cicely Rogers, who goes to PoleLaTeaz in Atlanta says: "I started last August and I've gone down two dress sizes. I've lost 20 pounds and I feel awesome." Learning pole tricks "made me feel better about my body. I used to be nervous about my body and try to hide it. Now I'm a lot more open and confident. I stand up straight and feel good about myself." Would she feel fit and confident if she'd been jogging for a year? Or rowing? Or playing tennis? Or doing yoga? What is with the obsession with pole dancing? Does the media love an "edgy" story about a housewife getting all sweaty while wrapping her legs around a phallic column because we're all conditioned to love a lady in the street who's a freak in the bed? Or is this just good "reporting" on a "trend" ?
Pole Dancing Helps Strip Off Pounds
[CNN] Earlier:
Kim Kardashian's 9-Year-Old Sister Works A Stripper Pole