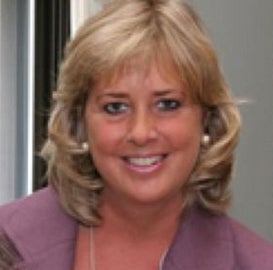 This is a picture of Cindy Bischof, a real estate broker in suburban Chicago. According to the
Chicago Tribune
, Bischof was
killed last year
by a deranged ex-boyfriend named Michael Giroux, whom she had taken out a restraining order against. In fact, Giroux had spent two months in jail for violating that restraining order, but after his release from prison, he shot Cindy in the parking lot outside her office before shooting himself. Cindy's brother, Mike, and the rest of her family, used the tragedy of Cindy's death to
lobby for a law
passed last week by the Illinois legislature, a law that sanctions the use of GPS technology to track batterers who have violated their restraining order,
Ms.
reports.
Ms.
notes that 60% of these types of restraining orders are violated each year, and that several other states have implemented the use of GPS to track abusers. The technology is already widely used to track sex offenders and other ex-cons. According to
Ms.
, the way the technology works is "the offender is outfitted with an electronic anklet that communicates with a satellite. The victim can designate "exclusion zones," such as her home or office, in which she would like to be protected. In the best programs, if her abuser enters these zones, police and the victim are notified immediately." Of course, as
Ms.
notes, there remains a question of civil liberties being violated, especially since many accused abusers are often required to wear the GPS anklets before they go to trial. Are these violations worth it as long as women's lives are being saved?
Tracking The Abusers
[Ms.]
Cindy Bischof's Legacy
[Chicago Tribune]