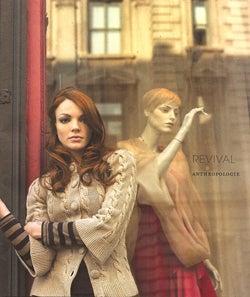 A friend writes: "I just got a new Anthropologie catalog and the main model in it is practically almost of a non-anorexic size!" Yes, yes. Indeed. And! She's also a redhead in '60s makeup: Channeling Joan from
Mad Men
? Oh, and let's talk about the clothes. After several seasons of sloppy
crafty
handmade-ish crap, Anthro has gone positively sleek and elegant. Soft sweaters, full skirts, jewel tones and poetry-inspiring shoes, after the jump.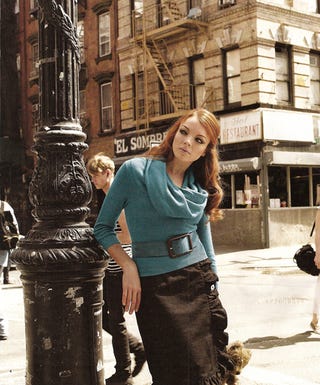 I'm just starting to get into
Mad Men
, but I can tell that this is really quite Joan-esque. Plus! It's wearable. Can't always say that about Anthro.
Grand Central cowlneck, $78; dusk-blue suede belt, $42; ruffled denim skirt, $158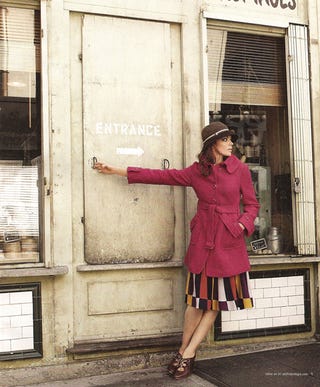 "Sylvie decided that if they wouldn't give her the recipe for their incomparable Madeleines, she'd have to sneak into the kitchen to watch them being made. Little did she know that in precisely one hour, she'd be covered in flour and completely in love…"
Street poet trench, $248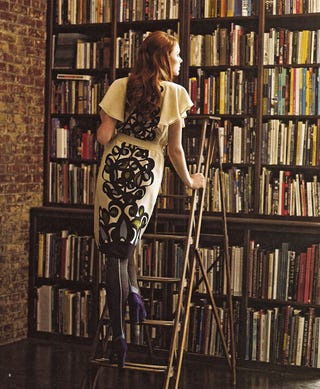 Gah. Foxy. A haiku for those
violet heels
: You are gorgeous; but You are not affordable Thus, I sigh deeply.
Printing press sheath, $268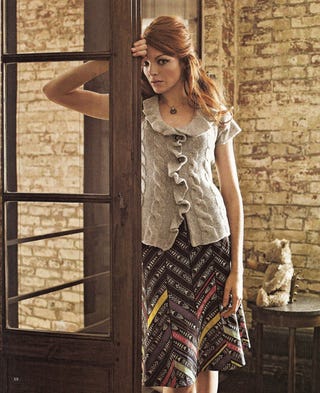 A ruffled cardigan is good in theory but would look absurd on some people, including yours truly.
City dweller cardigan, $118; Studio space skirt, $148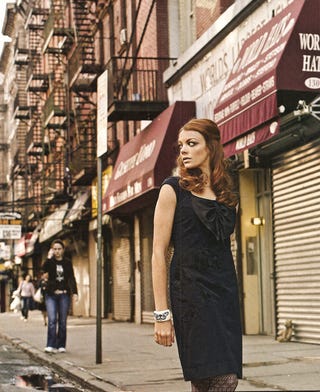 Cocktails at seven, dinner at eight. Don't have plans? Make some.
Sunless skies shift, $178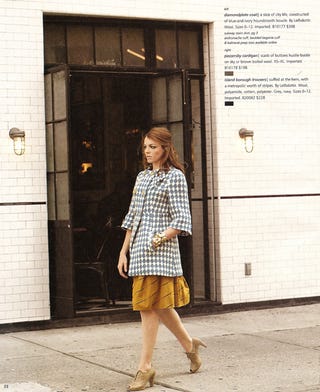 The restaurant in the background is Schiller's. I just blogged from there like 2 weeks ago. As for the mixy-matchy coat and skirt, though I'm not sure I could pull it off, I look forward to seeing people try. Black seems boring suddenly.
Diamondplate coat, $398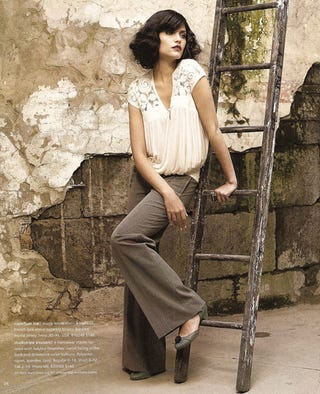 While I appreciate the elegant, luxurious and easy ensemble, I worry about this posture. I prefer strength to weakness as a rule.
Castellum top, $148; chalkstripe trousers, $148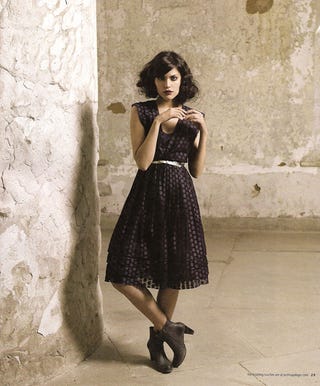 That whimpering sound you hear is me, realizing this probably won't fit me. Sniffle.
High city dress, $258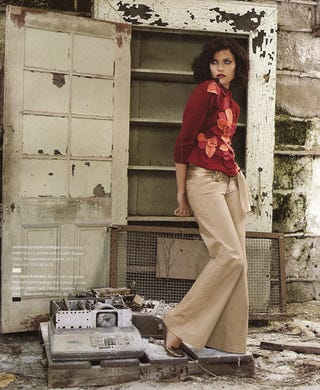 Post-recession, post-modern, post-apocalyptic, post-post. But why would you trail wide-legged trousers in the detritus of humanity? What are your dry cleaning bills like?
Armarna jasmine cardigan, $128; Via Appaia trousers, $148
[
Anthropologie
]
Anthropologie "Giving": We Love To Hate & Hate To Love It