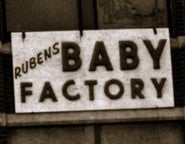 A surrogate "baby factory" has
opened in Poland
where 37 young women are ready to give birth to babies for couples unable to conceive for roughly $22,000 a child. • An 84-year-old Nigerian man with 86 wives
advises men against
taking so many partners, but he was granted his power to "control" and "heal" women by God, so, you know, whatevs. • In the wake of the news that
The Well of Loneliness
is being reprinted for its 80th anniversary,
one critic asks
if there is still a need for the category of "lesbian literature." • Researchers have discovered that your natural body odor is
determined by genetics
, not simply your level of cleanliness.• Check out the
GoateeSaver
, a device that one bites onto while shaving to create the perfect goatee every time. • Mothers are
launching their own businesses
in the UK after they become fed up with the lack of flexibility to spend time with their family in their old jobs. • Gamma-butyrolactone and 1,4 butanedoil may be
banned
in the UK where they convert into the date-rape drug GHB when ingested rapidly. • Working-age singles in Australia
report
having "low life satisfaction," and are only happier on average than marginalized groups like the unemployed and single parents. Is this another study trying to scare single people into getting married? • A new law may be forming in Kuwait that will require that all gyms become
gender-segregated
. • A 90 year-old woman had her
biggest wish come true
when a male staffer at her assisted living facility volunteered to serve her fish and chips in a thong. Some staffers complained that it wouldn't have happened if the genders had been reversed.
(Image via B12 Solipsism.)