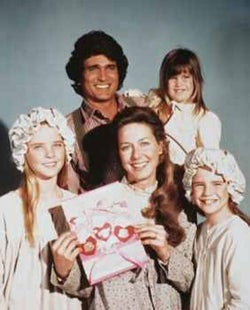 The inevitable
Little House on the Prairie
musical is in previews in Minnesota. The location was logical because early
Little House
books take place in the Midwest - even though the musical is based on the later, South Dakota-set novels. "The story actually starts when the Laura leaves Minnesota," director Francesca Zambello says. "The material is beloved here." And if peeps are more familiar with the 70s TV show of the same name, that's okay too: Melissa "Laura Ingalls" Gilbert is playing Ma. Ms. Zambello says the main challenge in adapting the material was to keep the spirit of it but let it speak "in a kind of contemporary way about our own American past." Well, maybe one of the challenges: in addition to keeping the epic numbers of awesome food descriptions totally in tact, the directors will have to acknowledge that musicals adapted from classic children's books have had a rocky history. Below, some highlights of the genre.
The Secret Garden
: One of the most successful of the genre, it opened in 1991 and ran for 709 performances, winning Tonys for best book and a best actress for child star Daisy Egan. The tearjerker is called "A Bit of Earth." Dickon also has a stirring number about plants being "wick."
A Little Princess
, another Frances Hodgkins Burnett book, has spawned new musicals every couple of years: six and counting. None has made it to Broadway.
Anne of Green Gables - The Musical
is an off-Broadway staple, but hasn't played much in the States. It has been performed every summer since 1965, making it Canada's longest-running mainstage musical Some people are lobbying to get it named longest-running musical period. Good luck.
Little Women
was a flop when it opened in 2005, lasting a mere four months. Said one review, "the cast members most often bring to mind an 1860's-themed American Girl doll." And Beth sings a power ballad.
From Little House to Big Stage
[Wall Street Journal]