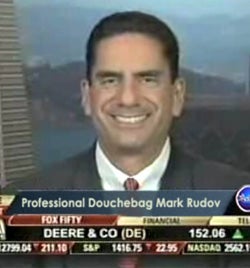 Blogger, columnist, Republican talking head Marc Rudov is one angry guy. I'm not really sure what he's so angry about, but if his column this week is any guide, it's some combination of: his ex-wife; the fake idea that marriage is about love; his inability to say offensive things without offending women he'd like to sleep with who should sleep with him based on... well, based on something; men that don't accept that women want sex all the time and it's within men's power to extract it; women that don't have sex with men because they are pissed off at them; Barack Obama, Hillary Clinton and Joe Biden; ad execs; the supposed legions of women who falsely cry rape all the time; men without balls; and, dare we say, the man in the mirror. Excerpts of his incoherent rantings about the gynocracy (we wish) after the jump.
Nothing symbolizes spineless deference more than a man on bended knee proposing marriage to his girlfriend.
If this was the start of an argument about why there should be more equality in marriage rituals, I'd be all for it. But, sadly, no. It's just about how getting on one knee is "emasculating" rather than respectful. And, while he notes that women file about 70 percent of the divorce claims in this country (up from 62 percent in 1867!) and claims that it's to extract money and vengeance from their husbands, he neglects the research in the article he posts on his own site that shows that most women end up less well-off after their marriages than during and that women are significantly less likely than men to re-marry. But that's okay because it doesn't prove his thesis that women are money-hungry, deceiving harpies out to take men's balls.
Supposedly, the basis of marriage has changed over time — evolving from parentally arranged unions focused on property, wealth, station, and lineage to modern ones in which the fiancés freely choose each other out of love and compatibility.
In reality, the more things have changed, the more they've stayed the same. Marriages, in 2008, still are about money and children, as their dissolutions ultimately prove.
Well, if Marc's right, then this must explain why I'm single because I have my own money and no great urge to breed... except, then, by Marc's reasoning men should be falling at my feet and I'm still single. Also, back to the thesis that women marry to extract money and offspring through men and then leave them, despite all the evidence that women end up financially worse off after a divorce. Is anyone else starting to get the sense that Marc had an alimony or child support payment due this week? It is the first of the month.
Despite all the talk about feminism and equality, Americans, via outmoded chivalry and unconstitutional reproduction, child-custody, rape, and domestic-violence laws, keep women in perpetual childhood. Yes, American women have grown accustomed to being spared risk, pain, and disappointment.
Because most men have been raised to make women happy, to close that painful gap between expectation and reality, the penalty for failing is tremendous.
What is unconstitutional reproduction, anyway? Also, yes, Marc, laws which punish men for forcibly inserting their penii into any of my orifices against my will with or without the use of a deadly weapon are keeping me in perpetual childhood. Guess that makes my rapists child rapists. And, gosh, those laws have SO spared me disappointment, risk and pain since they've totally kept me from being raped or physically assaulted by a boyfriend, not that they actually, you know, did or anything. And I'm sorry your wife got custody of your kid(s), but the more I read this, frankly, the more I'm thinking the judge made a good call.