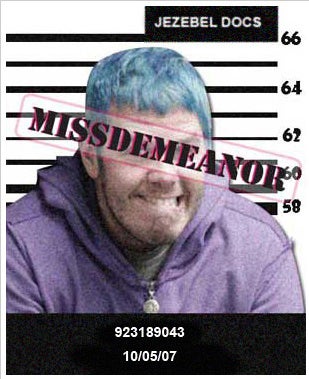 Welcome back to Missdemeanors, in which we accuse gossip bloggers of Crimes Against Womanity. We do this because the gossip industry is sexist, and only getting worse. These people are paid to write "gossip" but, 99% of the time, the words they use to go with celebrity pictures denigrate, critique, belittle and objectify women. This week: Breasts. They're too flat, they're too big, they're too good, their areolas are not good enough. Plus! This is a "very special" episode of Missdemeanors, as you shall see. The continued degradation of female celebrities, after the jump.
The Accused:
TMZ, owned by AOL
The Crime:
Breast critique.
The Evidence:
"Naomi Campbell's Lethal Weapons: Topless and wielding a Blackberry, supermess Naomi Campbell hung out in St. Tropez on Monday. Luckily, no one was injured by the mobile device — the sight of her pancake bosoms is a whole other story!"
The Accused:
Hollywood Tuna
The Crime:
Breast fetishism.
The Evidence:
"I know you Dallas Cowboy fans are probably freaking out seeing Jessica Simpson show up to Tony Romo's training camp. And you should be, because those big tits are going to cost you the season. Don't believe me? Those tits have cost me relationships. Just ask my ex-girlfriends who keep dumping my ass when I keep yelling her name out during sex. Anyway, enjoy the season suckas."
The Accused:
WWTDD?
The Crime:
Breast critique.
The Evidence:
"Rihanna left boyfriend Chirs Brown (I have no idea who that is) at home last night while she hit the clubs in NYC in a kick ass see thru top. Although maybe I wish she hadn't. That bitch is hot as hell but her breasts look kind of weird. I believe the technical term is, 'saucer nips.' I read that in a science magazine about women. It was called, 'Sexy Chocolate Mamas.'"
The Accused:
IDLYITW
The Crime:
Breast critique.
The Evidence:
"Rihanna looks like a visitor from outer space sent to study us in preparation for the inevitable attack and colonization, so it's really no surprise that she looks even weirder without a bra. Her areolas look like they're infected."
The Accused:
Yeeeah
The Crime:
Disgustingness, not that it's a word
The Evidence:
"Sophie Monk is a shitty actress with an even shittier resume of box office failures, but I doubt you'll care because her bikini is virtually see-through when it's wet. And if there's one thing I've learned about this industry, it's that you can be a boil on the ass of all things thespian and still get a job if you're blond and have big tits. That goes double if you have a 'will do full-frontal' clause in your contract and don't mind sucking a little director dick from time to time. On the other hand, those qualifications only hinder your chances for a job if you're looking for a part-time position at a daycare or old folks home. Just trust me on that one."
The Accused:
Hollywood Tuna
The Crime:
Encouragement of nudity; possible eye rape.
The Evidence:
"Clearly Kristin Cavallari is never going to be anything other than a reality TV star if she keeps up this prudish behavior. Ruining some perfectly good pictures by wearing a bra under a thin see through T shirt? Come on you know better than that. If you're going to make it in this business you've got to show a little something, give us a taste, a nipple slip an upskirt something."
The Accused:
Perez Hilton
The Crime:
Mean-spirited lookism.
The Evidence
: "What An Ugly Bitch! And we don't mean the dog! Everybody's favorite fug bitch, saMAN Ronson walked her infinitely cuter pooch, Wednesday in Los Angeles." You may have noticed that there were no punishments this week. It's increasingly tough to mete out "funny" justice when these posts are
infuriating
. Young women love gossip sites: Are they learning that the best way to talk about famous people is to put them down? Anyway: we're planning on overhauling Missdemeanors. We have some ideas, but feel free to make suggestions. And if you'd like to write "punishments" for these bloggers, please do so in the comments.
Want to report a Crime Against Womanity? Send the link to tips@jezebel.com with "Missdemeanors" in the subject line.