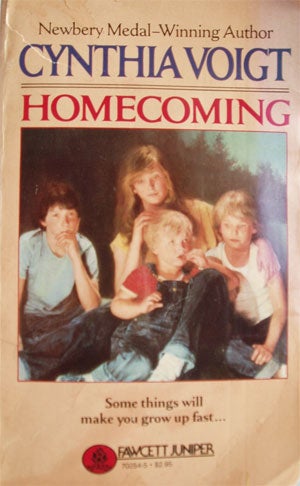 Welcome to 'Fine Lines', the Friday feature in which we give a sentimental, sometimes-critical, far more wizened look at the children's and YA books we loved in our youth. This week, writer / reviewer / blogger Lizzie Skurnick reads Cynthia Voight's 'Homecoming', the 1981 story of a girl on a quest for fire.
The woman put her sad moon-face in at the window of the car. "You be good," she said. "You hear me? You little ones, mind what Dicey tells you. You hear?"
Is there anything better than having to count out your every meal? I don't mean in real life - that's horrible of course - but stretching foodstuffs to match your difficult situation is, you might say - I do apologize - a staple of a certain brand of teen fiction. Take
Julie (of the Wolves)
and her dried seal meat rations. Take
Claudia (of Mixed-Up Files)
stretching the coins hard-earned by scraping the bottom of the Met's fountain to get her and Jamie a hearty breakfast at the Automat. Take
A Little Princess
's Sarah Crewe managing to pull together enough pence for four large, fragrant buns-then realizing she is not going to be able to enjoy them if that really poor street urchin keeps looking at her that way.But one of my favorite food-counters of all time is 13-year-old Dicey Tillerman, whose mastery over milk, bananas, donuts, clams, and throwaway fish makes her no less an illustrious follower of this tradition. When we meet up with Dicey, it's sometime (I extrapolate) around 1980, and Dicey, along with her younger siblings-smart, bookish brother James, gentle Maybeth, and rebellious Sammy-have been left in the parking lot of a mall in Peewauket, Massachusetts by their mother, with only the address of a distant relative in Bridgeport, Connecticut that the woman has pressed in Dicey's hand to go by. Before I get into their adventure, I'm going to swing into the first meal at the mall before I get into the plot because I HAVE TO:
...They were drawn to restaurants that exuded the smell of spaghetti and pizza or fried chicken, bakeries with trays of golden doughnuts lined up behind glass windows, candy stories, where the countertop was crowded with large jars of jelly beans and sourballs and little foil-covered chocolates and peppermints dipped in crunch white frosting; cheese shops (they each had two free samples), where the rich smell of aged cheeses mingled with fresh-ground coffee, and hot dog stands, where they stood back in silent row. After this, they sat on a backless bench before the waterfall, tired and hungry. Altogether, they had eleven dollars and fifty cents, more than any one of them had at one time before, even Dicey, who contributed all of her baby-sitting money, seven dollars. They spent almost four dollars on supper at the mall, and none of them had dessert. They had hamburgers and french fries and, after Dicey thought it over, milkshakes.
Ah, poor fools! It's a last meal in a very real sense, since this plasticine, industrial Agora and everything it represents is about to be left behind by the Tillermans, perforce-and Dicey will be thinking it over at every meal, from now on. After making a call to find out how expensive buses to Bridgeport are and almost being nabbed by a guard at the mall, Dicey decides they'll set off to walk to Bridgeport, to their Aunt Cilla, whom they've never met-because Dicey thinks there's a chance their mother will be there. It's not completely clear why Dicey runs from the guard, instead of marching right up to him and telling him exactly what's happened. Partly it's dim understanding that doing so would mean they'd be split up, and certainly taken away from their mother and put into foster care. There's also the fact that, since the children were raised in a rambling shack in Provincetown, out of the mainstream, their father absent, their mother (almost certainly) bipolar, they're used to acting on their wits and whims, not on the say-so of adults. But mostly it's Dicey's pure instinct-something in her resists handing over their destiny to someone in authority who doesn't know them. It's her family. She's the authority, even if she doesn't quite know what she's going to do with it. "Sometimes I think we can do anything," Dicey tells James, once they're on their way. "Because we're the Tillermans." So they set off, on foot, on Route 1, "mostly garages and small shopping centers and discount stores and quick food places. There were no green patches and few sidewalks." James comments that it was probably a "nice road once, a country road," and soon, Dicey realizes they'll be better off sticking to actual country roads, where they can camp out and forage for their own food. So they begin a pattern-she'll buy them donuts, bread, apples and other cheap, filling things during the day, and then they'll stay in parks at night. Sometimes, they stay in abandoned houses in developments. She buys them hooks to fish, and Sammy (who is SIX-they built six-year-olds better then, obviously) actually proves to be a good fisherman. Maybeth is skilled at gathering wood and suchlike. Dicey, having grown up on the beach, knows how to build a driftwood fire and roast whatever they catch. And when they need more money, she asks for work at gas stations and supermarkets, washing windows (she's big on washing windows!) or carrying other people's groceries. Still, the adult world continues to conspire to confound them. After a big catch of fish, she's told by a sports salesman that it's illegal to fish in the park where they're hiding out:
How were they supposed to eat then, Dicey asked herself. By buying food, she answered. The whole world was arranged for people who had money-for adults who had money. The whole world was arranged against kids. Well, she could handle it. Somehow.
Julie (of the Wolves) was unencumbered on the tundra, able to hunt whatever she needed. Subsisting on the land is all Dicey wants to do, but one may not, unfortunately, hunt in a Grand Union:
So, she had to earn some money. But how? There was that shopping center. It had a big parking lot, and a supermarket. She pictured it carefully, and then pictured herself coming out of the market with two big bags filled with fruit and meat and breads and cans of vegetables and pan to cook things in. And a can opener; it would be just her luck to forget the can opener. In her daydream, the Dicey she saw walking out of the store with enough food for her family to eat for days, with her eyes smiling and a big grin stretching her mouth, that Dicey tripped and fell. The food scattered over the ground. The wheels of cars squashed the scattered oranges and bananas. A dog took the package of hamburger meat and ran away with it. The people around went off on their own ways, carrying their own heavy bags of groceries. Was this how Momma felt? Was this why Momma ran away?
Usually, in the books where the need to be fed overrides-usually mercifully-the opportunity to mope over one's circumstances, the child in question also finds, surprisingly, that she
can
survive by her own wits, something she didn't know before. Dicey is a bit different. In a way, she's always been a survival machine, with instincts that automatically allow her to make the best of any situation, almost unconsciously. As she tells James when he's telling her how much he loves school, "It takes different things to make me glad....Like knowing we've got food...The ocean...And lots of room outdoors. But mostly the ocean. And the food too...." I've somehow reached the end of this without talking through all of the adventures they have with adults-mainly because I, like Dicey, am apparently completely obsessed with food. There is, of course, Windy, the Yale student who is amused by the ragtag group and, after taking them to several meals at a diner, arranges a ride to Bridgeport for them. There's cousin Eunice, the only living relative of the deceased Aunt Cilla, whose cloying pressing of religion on the children becomes overwhelming. ("Cousin Eunice's house wasn't free, it was expensive-and the price was always remembering to be grateful.") There's the totally creepy child molester who almost traps them on his tomato farm once they've made it to the Eastern shore, to try to find a grandmother they've only just learned about. And there's Will, the itinerant circus director who saves the children from creepy tomato man, and who, along with his partner, Celia, takes a shine to the children. And though she's grateful to all the adults they meet along the way, Dicey finally realizes, like all those nearing the end of a quest, that in fact there's no need to stop:
"You know," Dicey said, "we don't have to go anywhere. We could always travel like this, following the warm weather, like Will said he did. We can take care of ourselves." "Yeah, but what's the point?" James asked. "There doesn't have to be a point," Dicey said. "Just doing it. Like sailing."
Could a kid with three siblings in tow manage nowadays to walk from Provincetown to Bridgeport, then get from Annapolis to the Eastern Shore? Could a
person
do it? (I can't even walk through my whole CITY.) Would our 2008, not 1978, recession prices make room for kids to eat, to make even enough money for a day, even eating off the dollar menu? I don't think the point of Homecoming is how realistic it is, although, for it's own purposes, it's realistic enough. (Calling all authors: writing this same journey updated for 2008 would be AWESOME). Still, what's wonderful about
Homecoming
isn't only that Dicey and her siblings finally succeed. It's the understanding that world has forces, and resources, that we can marshal to our side if we're courageous and competent enough. When Dicey and James manage to convince two boys to take them across the bay to Easton, MD, Dicey realizes what she's been doing the entire journey:
Boats, waves, water, wind: through the wood she felt them working for her. She was not directing, but accompanying them, turning them to her use. She didn't work against them, but with them; and she made the boat do that too. It wasn't power she felt, guiding the tiller, but purpose.
You'd be wrong to sum Dicey up as "spunky" adventurer. She's not. She simply is-as her name suggests-a natural sailor. • • • • • Hello, my beauties! In honor of Dicey and her incessant water/food obsession, I am going to go to the beach shortly and eat a lot. And now for our Plotfinder winner! The book is, of course,
Who Killed Peggy Sue,
by one Eileen Goudge, and the winner, who murderously crept into my inbox at 4:45 p.m., is one Tina M. Congrats, Tina! Please email me at jezziefinelines@gmail.com with your column request. AND NOW FOR THIS WEEK'S, which comes from Nicole T. Ever since Nicole asked this, it has haunted me too. I have a feeling it's something GLARINGLY obvious, but I don't care; it's now driving me nuts too. M'aidez!
I'm desperate to find the name of this book that I was obsessed with in sixth grade. It's about a girl (aged 12-ish) who has two best friends (I'm thinking the more "grown up" friend may have been named Pam) and an older brother who tries to feel up the sides of his girlfriend's breasts while he applies sunblock to her back. There's a scene in a school bathroom where a group of girls are determining if they need bras yet via the "pencil test" - placing a pencil under the breast, and if it stays, you're brazier-ready. There's also a part where she and her friends discover Pam's father's

Playboy

collection. I seem to remember this all being in one book, though it may have been part of a series.
Of course my friends and I STILL do that pencil test, though now it's to assess encroaching decrepitude. Please, put us out of our misery immediately. NOW...an extra chance to win a prize. It occurs to me that since I can't stop talking about food, it might be nice to hear about YOUR favorite YA-novel meals, or at least the ones you can't get out of your head. I am, of course, captive to the scene of 'Manzo and his family eating thick stacks of pancakes covered with butter, possibly but not necessarily during the same meal as some fried assortment of apples 'n onions. (I have seen other commenters bewitched by this one too.) If it is that one, or any other one, send me your YA fave with the words MEAL TICKET in the subject line, and I will pick one randomly for a free YA book from my massive and teetering collection. (You can just talk about it in the comments too, if you like.) Hey. Did you know Fine Lines will be fried up as some sort of book, with onions? Would you like to hear about anything and everything related to it, i.e. be placed on a mailing list? If so, email jezziefinelines@gmail.com with MMMMMMMMM in the subject line, and I will put you on it!
Up next week:
Tiger Eyes, by Judy Blume!
Week after that:
A Little Princess, by Frances Hodgson Burnett
After that, I am not sure! I am blind with hunger! I will figure something out. In the meantime, send your requests, assessments, irate missives and grammatical corrections to me at jezziefinelines@gmail.com. I will roast some fish over them.
Homecoming
Lizzie Skurnick
[The Old Hag] Earlier:
Go Ask Alice: Alice Doesn't Live Here Anymore
•
The Wolves Of Willoughby Chase: Life's A Bitch And So Is The Governess
•
Stranger With My Face: Stop Projecting
•
Happy Endings Are All Alike: The Price Of Fault
•
The Pigman: A Day No Friends Would Die
•
Julie Of The Wolves: The Call Of The Wild
•
Deenie: Brace Yourself
•
A Wrinkle In Time: Quit Tesseracting Up
•
Love Is One Of The Choices: No, Not That 'Sex And The City'
•
The Girl With The Silver Eyes: Little Pitchers Have Big Pharma
•
Starring Sally J. Freedman As Herself: Springtime For Hitler, Part II
•
Summer Of My German Soldier: Springtime For Hitler, Part I
•
From The Mixed-Up Files Of Mrs. Basil E. Frankweiler: City Of Angels
•
A Gift Of Magic: Totally Psyched
•
Are You There Crazy Psychic Muse? It's Me, Lois Duncan
•
The Secret Garden: Still No Idea What A Missel Thrush Is
•
To All My Fans, With Love, From Sylvie: No Telephone To Child Services
•
The Westing Game: Partners In Crime
•
The Moon By Night: Travels With Vicky
•
My Sweet Audrina: The Book Of Sister And Forgetting
•
The Long Secret: CSI: Puberty
•
The Cat Ate My Gymsuit: A Pocket Full Of Orange Pits
•
The Witch Of Blackbird Pond: Colonies, Slit Sleeves And Stocks, Oh My!
•
Are You In The House Alone? One Out Of Four, Maybe More
•
Jacob Have I Loved: Oh, Who Am I Kidding, I Reread This Book Once A Week
•
Then Again, Maybe I Won't: Close Your Eyes, And Think Of Jersey City
•
My Darling, My Hamburger: I Will Gladly Pay You Tomorrow For A D&C Today
•
All-Of-A-Kind Family: Where I Would Put Something Yiddish If I Thought You Goyishe Farshtinkiners Would Farshteyn
•
Island Of The Blue Dolphins: I'm A Cormorant And I Don't Care
•
Little House In The Big Woods: I Play With A Pig Bladder Like It's A Balloon
•
The Grounding Of Group Six: Have Fun At School, Kids, And Don't Forget To Die