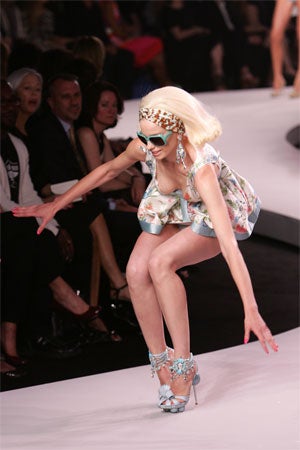 Don't hate Tatiana because she's beautiful.* It's summer and she, mere mortal like the rest of us, has invested an excruciating number of its precious hours in the courtship of a dude who turned out to be a total dick! And just in time for her agency to step in and remind her she is officially "fat" by the standards of September's New York Fashion Week. In today's Modelslips, Tatiana re-learns that lesson about why it's a bad idea to look for dudes immature enough to think you're perfect, because if you're sufficiently close to perfect — and Tatiana is, bless her heart — you'll have them fooled for long enough to get high on that oxytocin-sired hallucination of soulmatehood and consequently, become understandably alarmed when they abruptly shake off your hand and ask to use your phone to call another girl. (Wait, seriously Tatiana? You fell for a dude without a cell phone?) (And who exactly decided "9/11 was an inside job" was the new pickup line?) Anyway, after the jump… what happened when Tatiana tried to take a romantic European vacation with her pen pal, The Guy. (Feel free to call him "The Boy"; he was born in the late-'80s.)
*Hate her because you have to Google her literary puns!
The Gallstone Of Rouen
By Tatiana
I would be dropping by today with a jaunty rumination on my work life — I shot a fascinating catalog this week, let me tell you — but I'm afraid I've had something on my mind that has so angered me and colonized my thoughts that I've found myself motivated to rant at length to strangers in bars and to thrash out incendiary e-mails at times when a sensible person would be sleeping. I am afraid this current rage prevents me from mustering the wherewithal to make irreverent fashion commentaries or impugn the good reputation of any of the variety of hardworking artisans I encounter at work.
My problem has a name. A man's name.
My dating life as a model is one of the topics I'm least inclined to broach, but that people seem to take the most interest in. While ordinarily I wouldn't write about my personal life in public, I'm anonymous, I'm prepared to camouflage the identities of the wicked, and fundamentally I think tackling the common assumption that — how was it put recently? "Girls who look like Jessica Alba typically do not get jilted" is worth the airing of dirty laundry.