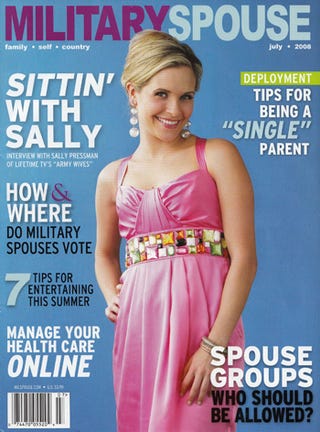 We tend to talk about the
sadder, more unsavory
aspects of the female experience with the American military, but there is so much more to this specific segment of the population.
Military Spouse
magazine tries to present a broader picture of military life, and it seems to be doing a bang-up job: The monthly
MSM
was founded in 2004 by
Babette Maxwell
, "A mechanical engineer by education, a military spouse by choice, a mother by experience and an innovator by nature," according to her bio. Maxwell started the mag because she "realized that although she found an instant community every time she moved to a new military installation, her connection to her fellow spouses was fragmented at best. She was part of a transient subculture that people outside of the military, especially the mainstream media, just didn't get."There is a real sense of community about the magazine, which is published by the veteran-run independent publishers Victory Media. Because, you guys? Being a military spouse takes so much gumption and bravery. There is a good article (fig. 1) about how to cope while being a "single parent" when your spouse is deployed, and the focus is on letting yourself rely on the people around you for help. I think a lot of women, particularly in a military culture, feel like asking for help is a sign of weakness, and the prevailing ethos of
MSM
is, it takes a village. To this end, the magazine's website has
forums
where military spouses can get and give advice in real time. The magazine is a slim 66 pages and has very specifically focused advertising, like any niche publication. What's notable is that there is not a single beauty product advertised in
MSM
, and while there are several more traditional articles on cooking, cleaning and decorating, there is certainly encouragement towards education and earning a living. And the magazine is called
Military Spouse
not
Military Wife
for a reason — it is inclusive towards men whose wives are in the military as well as women whose husbands are servicemen. Babette Maxwell sends a message of inclusiveness in her letter from the editor, railing against "rank among spouses," ie, the old-fashioned idea that the president of the spouses group should be the commander's wife, and that the pecking order echoed the rank of husbands. "Don't we already have enough difficulties in our military lives without creating new ones? Do we really need a reason to tear each other apart? Isn't it enough to know that everyone is faced with the same things?" Maxwell wonders. Coming out against girl on girl crime? We'll always salute Babette Maxwell's dedication to that.
Babette Maxwell Bio
[AFCEA International]
Military Spouse
[Official Website]
Fig. 1: