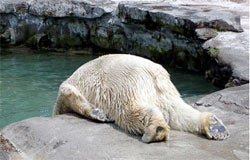 Slut Machine finally revealed her makeup secrets by painting the tender, bearded visage of Gavin McInnes.
Sadie debunked the art of the Facebook photo, and proved that every last one of us is a loser.
Moe is a Jezebel no moe. But don't worry, she'll be sticking around these parts in spirit and in Crap.
In our dream world, all insane divorce cases would be tried in the court of Judge Judy.
LOLVogue! Week of 10,000 LOLZ!
Teri Garr reminded us that there are still many funny, funny ladies in modern film who we'd like to befriend.
Estelle Getty is a friend who will be missed.
Even though working during a beautiful summer's day is the pits, it's the weekend, y'all! So enjoy your damn selves.