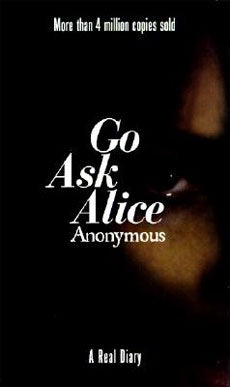 Welcome to 'Fine Lines', the Friday feature in which we give a sentimental, sometimes-critical, far more wizened look at the children's and YA books we loved in our youth. This week, writer / reviewer / blogger Lizzie Skurnick reads 'Go Ask Alice', the "anonymous"ly-written, 1971 story of a girl who keeps the worst kind of diary.
Yesterday I remember thinking I was the happiest person in the whole earth, in the whole galaxy, in all of God's creation.
I'm going to cop to a handicap right away and tell you I'm going to have a hard time writing about this book because it is false. I'm not an absurd stickler for the truth — although, had I been one of those people who read James Frey (I am not one of those people [she said snottily] who read James Frey), I would have been firmly with the my-money-back-please contingent, not the what-is-truth-anyway? claque. Looking at the first line above, I am inclined to blame myself somewhat, as disquisitions about God's creation are not high on the list of crucial topics for the teen female. However, I was eight, and it says "A REAL DIARY" right on the cover.
Objection filed. Go Ask Alice is, of course, the story of a nameless girl growing up sometime during the 1970s who is yanked out of a comfortable middle-class existence where "ten globby pounds of lumpy lard" are the worst problem she faces, into a life of drugs, prostitution, chaos and disrepute. I've always associated Go Ask Alice with weight loss (note to fake authors off teenage girls' diaries: don't present drugs as an awesome way to achieve weight loss), and on reread I can see that this is primarily because the author (WHOMSOEVER SHE MAY BE) spends 90% of the time building up the themes that are going to carry Alice right into a life of vice: fatness, family, social alienation, and hair issues. Here's an entry that wraps the whole thing up neatly:
February 8

Well, I've gained almost fifteen pounds since we've been here, my face is a mess and my hair is so stringy and oily I'd have to wash it every night to keep it decent. Dad is never home and Mom is on my back all the time, "Be happy, put up your hair, be positive, smile, show some spirit, be friendly," and if they tell me I'm acting negatively and immaturely one more time I'm going to gag. I can't wear any of the clothes I made before I came here and I know Tim is ashamed of me. When I'm around his friends he treats me like a dum-dum, insults me and makes remarks about my hippy hair. I'm getting fed up to here with this town and school in general and my family and myself in particular.
You know what's great for that? DRUGS. After a brief time with a new Jewish friend (with whom she wishes she could discuss her faith more—oy, CLUE, LIZZIE!), she falls in with the more popular crowd, going in two or three pages from a mousy grind to a shiny, happy person.
July 13

Dear Diary,

For two days now I've tried to convince myself that using LSD makes me a "dope addict" and all the other low-class, unclean despicable things I've heard about kids that use LSD and all the other drugs; but I'm so, so, so, so, curious, I simply can't wait to try pot, only once, I promise! I simply have to see if it's everything it's cracked up not to be! All of the things I've read about LSD were obviously written by uninformed, ignorant people like my parents who obviously don't know what they're talking about; maybe pot is the same...
DUH. To continue:
July 20

Dear close, warm, intimate friend, Diary,

What a fantastic, unbelievable, expanding, thrilling week I've had. It's been like, wow—the greatest thing that has ever happened. Remember I told you I had a date with Bill? Well he introduced me to torpedos [?????] on Friday and Speed on Sunday. They are both like riding shooting stars through the Milky Way, only a million, trillion times better. The Speed was a little scary at first because Bill had to inject it into my arm. I remembered how much I hated shots when I was in the hospital, but this is different, now I can't wait, I positively can't wait to try it again. No wonder it's called Speed! I could hardly control myself, in fact I couldn't have if I had wanted to, and I didn't want to. I danced like I had never dreamed possible for introverted, mousy little me. I felt great, free, abandoned, a different, improved perfected specimen of a different, improved, perfected species. It was wild! It was beautiful! It really was.
You filthy, dirty, dope-fiend, you! From here, it is of course only one hop, skip, and a jump to losing her virginity to Bill, and then to horrifying her parents by truly hanging out and looking like a hippie. (Yes, she capitalized the Establishment.) You know what happens next, right? She starts dealing (pushing), of course, to grade-school kids:
....The high school kids are one thing and even junior high, but today I sold ten stamps of LSD to a little kid at the grade school level who was not even nine years old, I'm sure. I know that he in turn must be pushing...
Okay, watched-too-much-Wire. But having her infect the Cray-pa set is an important narrative step, as she is about to do something so odious to the character we'll need a little self-righteous distance to get through it:
December 3

Last night was the worst of my shitty, rotten, stinky, dreary fucked-up life. There were only four of us, and Shelia and Rod, her current "boyfriend," introduced us to heroin. At first we were afraid, but they convinced us that the horror stories were just pretty much American myths—ha!...the truth is I really couldn't wait when I was watching them set up. Smack is a great sensation, different from anything I've ever had before. I felt gentle and drowsy and wonderfully soft like I was floating above reality and the mundane things were lost forever in space. But just before I was too out of it to notice what was going on, I saw Shelia and that cocksucker she goes with lighting up and setting out speed. I remember wondering why they were getting high when they had just set us out on this wonderful low, and it wasn't until later I realized that the dirty sonsofbitches had taken turns raping us and treating us sadistically and brutally. That had been their planned strategy all along, the low-class shit eaters.
Well! Language! I do remember even in my extreme youth being brought to quite a state of confusion by this half female-perpetrated rape, not that that can't HAPPEN, but with the grade-school pushing and the wrapping the hair in orange juice cans to straighten it we're stretching the boundaries of credulity somewhat.
And herein, the author whomsoeverthatmaybe commences 80 pages of itchy horror wherein our heroine embraces her family and alternately gets sucked back in ("After you've had it, there isn't even life without drugs. It's a prodding, colorless, dissonant bare existence. It stinks. And I'm glad I'm back. Glad! Glad! Glad!") then, after finally kicking the habit, is pulled back into it against her will by her former druggy friends, who hiss "you'll be back" at her and finally spike her peanuts with LSD when she's babysitting.
As an after-the-fact Judgy Von Judgementtown, I find myself unable to review this book on its own merits — although I'd like to think I might have caught that the book has so very few without even knowing it was churned out alongside several other "real diaries" to an increasingly skeptical public. However, what's fascinating to me now is how aggressively Alice was presented as a universal, saddled with the most normal problems imaginable — thereby making her subsequent drug use something your average ordinary girl could also slide into as easily as an unflattering skirt.
Alice's life, filled with parties, new friends, boyfriends, clothes, and a benign, caring family, is a plasticine ideal of the idea of a teenage girl's existence, a teen mass-produced for a public who needed to know, with all these people spelling establishment Establishment, how they ticked and how to stop them ticking. Now, what we have is almost a vintage Alice doll in plastic, with bendable limbs and teeny-weenie hippie-pants, Boyfriend dolls and mini-acid tabs for a girl to play with. It's unsurprising how appealing with found her, so clearly in possession of all the add-ons we'd hopefully get to play with one day. (Malibu Crash-Pad, anyone?) The problem with, at the end of the day, isn't that Alice is a lie. It's that she's a facsimile, not an individual — a proxy to play-act dramatic adventures with until it's time to put her and her mini-platform heels away.
• • • • • Thank you guys for being so nice to my friend! At my violent behest, she will be returning in the next few months to handle a book or books I will leave for now as a secret, except for this one clue: there are actually never, at any time, 12 of them. And, if you didn't get a chance to check her out last week, if I can have a kvell-ing mama moment, please go buy all 329 of these and settle down for a week or two; you will not regret it. Attend particularly my favorite, Every Secret Thing, which is about 339 times darker than Go Ask Alice ever managed to be.