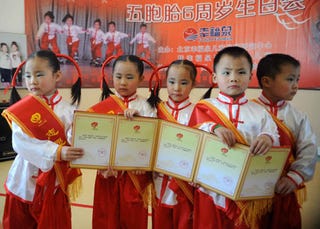 UPDATE: And the galvanizing fear of terror attacks! In cuter news, meet the Jiaos. They're quintuplets. What one-child policy, right? Anyway, these are some of China's youngest "Olympics ambassadors," although they are not the "sweetest" as chosen by preeminent lecherous horndog filmmaker Zhang Yimou, no, his picks for 10 Olympic Sweethearts are on another page of this state-sponsored site, but anyway, the Olympics is still not yet happening, though it is only a matter of 17.92 days, which on a slow news day means lots of China-related stories to read, namely the New Yorker story about the nationalistic rage of China's internerd youth, reared on science fiction, Fox News clips and years of 10% annual GDP growth attained making consumer goods for a bunch of pathologically clueless West. They seem like nice enough kids, but they tried to beat up this one Chinese Duke student for trying to make friends with Tibetans and the worst thing about brainwashed people is how they hear "brainwashed" the first time and think it describes everyone else. So that and Chandra, Chuck Hagel and the election after the jump.
MOE: Hi everytime I wake up early I have a coffee maker explosion

MEGAN: Well, presumably you're familiar with Murphy and his motherfucking Law.

MOE: It's like shitty kitchen appliances' way of telling me it's not meant to be.

MEGAN: I think coffee is always meant to be. I think shitty coffee makers are a conspiracy by Starbucks to drive us to their stores and save their profit margins.

MEGAN: Like a failsafe device installed under a secret agreement with Krups and Mr. Coffee, that benefits both parties.

MOE: Who was Murphy anyway? The supreme court justice who signed the eighteenth amendment?

MEGAN: I believe he was just another unlikely Irishman or something.

MOE: or who signed the NINETEENTH? Anyway, what happened while I was away? Obama went to Afghanistan, the Washington Post got to the middle of a ninety-part series on Who Killed Chandra Levy? (It seems like a more easily answered question, no?) and something crazy about Barack Obama's birth certificate. I've got the dial turned to Fox and Friends so I can hear the details on that one.
MEGAN: Wait, do you mean McCain's birth certificate? I know a legal analysis has shown that the Panama issue isn't just a feint by the right wing of the Republican party but gosh I'll bet they're pissed they brought it up now. Guess who his VP is really might turn out to be relevant.
MEGAN: As for the bazillion part series, I've been following it.

MOE: It's all over the right wing blogs though apparently it's a Pamela Geller exclusive. Who says