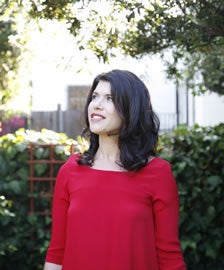 Janelle Brown's debut novel, All We Ever Wanted Was Everything, in addition to including a Bauhaus reference in its title, is essentially about the relationship between Janice Miller and her two daughters, Margaret, 28, and Lizzie, 14. AWEWWE depicts a shining Silicon Valley suburb replete with country club appearances and pool boys. In the grand tradition of the suburban novel, though, beneath the surface of all that material excess lurks despair, accidental pregnancy and general malaise. It's sort of like a modern day, West Coast version of the Ice Storm, but instead of key parties there's…meth. We talked with Janelle, a former staffer at Wired and Salon about her darkly funny book, Maxi, the feminist 'zine she used to run in the 90s, and the uneasy intersection between art and commerce.
Because your novel has female protagonists and a baby blue cover, it seems that some people have categorized it as chick lit, which felt reductive to me.

It is reductive! It's also dismissive. "Chick lit" is a catch all for everything that's not "hard" literature written by a woman. It implies that the male experience is universal, while the female experience is something only other women would be interested in. Even Joyce Carol Oates' last book got the disembodied female head cover treatment! I understand where the term comes from – [books about] female protagonists looking for love in the big city – but my book has nothing to do with finding a man. Companies know that women are really the only ones who still buy books, which is good, but there has to be a better way to market them.