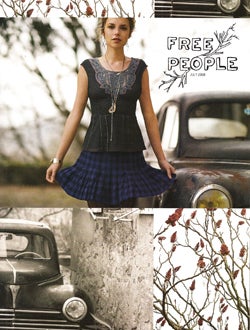 The new Free People catalog arrived, and it is full of fugly: Mismatched patterns, awkward layers, misshapen knits and (yikes!) elephantine bell-bottoms. If you love sleek, polished, pretty and sophisticated clothing, you're out of luck! Oh, the catalog has a rather "international" look, to be sure, but it's not as "jet set" as it is "oppressed proletariat." Bolshevik babe duds have a place in this world - just not in my closet. Faux-rustic ensembles for the plebe in you, after the jump.
Fall is coming! Time to hunker down in your non-existent off-the-grid cottage and figure out a way to eat when you've spent all your cash on clothes!

We The Free bomber jacket, $248; Wild At Heart dress, $228; Barolo buckle boot, $498.
Ew. Really, there's not much more to say. I'm tempted to write something about the way impoverished (non-Western?) people wear items of clothing and put certain ensembles together in an effort to just be clothed and not in a fashion-conscious way; and we shouldn't romanticize paupers; how it is important to remember that new, unworn clothing for style purposes is a privilege not everyone on the globe is lucky to know, but really, when it comes right down to it, "Ew" is a more appropriate statement to make in this particular situation.
You have to wonder if the woman on the right knew what she was getting herself into. Was she paid? Is she a model now? Ah well, this catalog loves using people as accessories.