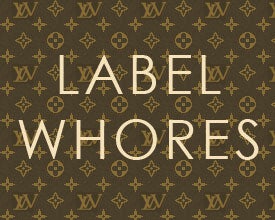 Ever wonder if your H&M dress could pass for its designer original? We do, and that's why we are bringing back Label Whores, in which we sew designer labels on cheap chic clothing and attempt to fake out some of the snobbiest sartorialists out there: big city consignment store buyers. In today's installment, we travel to the "hippest" neighborhoods in New York (East Village, Williamsburg) with four H&M items masquerading as Calvin Klein, Donna Karan, Gucci, and Pamela Barish. The results, after the jump.
All of the items are from H&M.
First item: Sleeve-less mid-thigh length dress made from 100% silk (I know!) and retailing for $69.90. The simple design made me think it would do best as a Calvin Klein item.




Second item: High-waisted and below-the-knee skirt made from polyester and retailing for $49.90. I took a look at Anna's grab-bag of mid-90s designer labels and decided that this item could be pulled off as a Donna Karan piece.




Third item: Knit tank-top made from polyester and silk and retailing for $34.90. I could just imagine a wealthy northern Italian woman lounging around in this top, so Gucci for this one.




Fourth item: Sleeve-less polyester top with tie around the waist retailing for $29.90. This top seemed very much like something you would find in the window of some girly boutique that is featured in Lucky, thus Pamela Barish seemed like a good fit.
First stop: Tokio 7:

After mulling around for a few minutes, trying to get the attention of the staff while knee-deep in the most horrendous/fabulous collection of mid-90s designer items, I finally get someone to look at my offerings. The buyer, a Japanese man in his forties, runs down the consignment policy about 50 times which I pretty much ignore because, obviously, I'm not actually trying to sell this stuff. The "Pamela Barish" top is up first: he asks me who the designer is and then gets into a lengthy conversation with another saleswoman in Japanese. I start to sweat bullets, thinking that the jig is up, but he announces that he would sell the top for $60, the "Donna Karan" skirt for $180, and the "Gucci" top for $80. His eyebrows raise a couple times when looking at the "Calvin Klein" dress but he ultimately he gives me a number of $250. Wow!
Second stop: Cadillac's Castle:

Feeling confident that my items passed the taste test at Tokio 7, I head over to Cadillac's Castle with a spring in my step. There, my attention is drawn to a Proenza Schouler for Target dress on a rack selling for $45. (It retailed for $35). I also notice a few dusty Century 21 items (red dot on the tag!) selling for a couple hundred dollars. A salesclerk directs me to the buyer, a forties-ish woman with blue eyeliner and that I-used-to-party-with-Andy-Warhol-but-now-I-take-Pilates-classes-in-the-Village kind of look who smirks in self-satisfaction as she pulls the corners of the tags on all my items off with almost no effort - and those things took me 8 hours to sew on! - and tosses them back to me. The salesclerk looks on with a mixture of anger and horror. (Perhaps they learned their lesson after the last time we made a visit?) As I walk out of the store I hear the woman say loudly, "I mean come on, right?" I feel a bit shaken and defeated, but whatever. Onward and eastward!