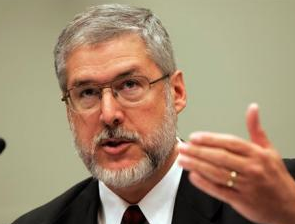 Meet David Addington, Dick Cheney's Dick Cheney, the dark force behind the dark force behind the defenestration of the constitution. You may have met him before, via that New Yorker piece wherein Colin Powell tries to get it through someone's thick skull that the Bush Administration doesn't care about the Constitution. But you have never before probably seen the bearlike Baddington, because they don't let him out; he scares too many other Republicans. But! Yesterday he testified before the Senate Judiciary Committee. And oh my god he did not disappoint! He tugged on his beard! He was radioactive with disdain! "I'm glad the terrorists finally get to see you!" one congressman "joked." So what motivates such a man? As a child, he wore black socks with shorts and subscribed to the notion of "the divine right of kings." As an adult, his views were hardened by the sad sad spectacle of the Church Committee, which put a damper on the ability of future presidents to pull off the sort of assassinations, coups, North Korean-inspired mind-control experiments, and warrantless wiretapping Nixon had so loved. Megan and I on the man with the Grace of Gollum and John McCain's sexism, whether feminists should buy guns, and Stevie Wonder's iPod after the jump.
MEGAN: I'm sure there's something more prescient to say about this article about Stevie Wonder and Obama, but the geek in me totally wants to see his phone in action! It's got software that allows his camera phone to convert text to audio and now I am completely covetous and I don't even have an iPhone.

9:25 AM

MEGAN: Also, I now totally have My Cherie Amour in my head and I know it isn't going away.

MOE: That's cool, but you know what would be even cooler is if you could choose to have your messages relayed to you in the voice of Dimitri the stud.

9:30 AM

MEGAN: This will make you understand the depths of my nerdiness, but my uncle's GPS speaks in the voice of Jean-Luc Picard. For real. And I'm jealous. Also, if you read that article about Stevie Wonder, how bad do you want to hear his rendition of Lil Wayne's "Lollipop"? Because I want that AP reporter's tape for real.