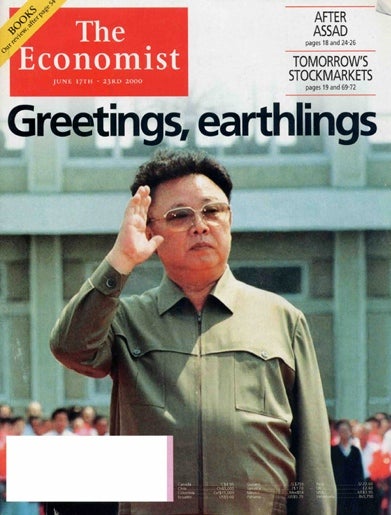 Yo citizens! North Korea was just about to celebrate its 20th anniversary on our State Sponsors Of Terrorism list when Condi Rice went and pulled them abruptly off it. Now she's telling everyone we'll be sending them food and shit!! Megan is skeptical about this, but with food prices where they are right now and all the international finance institutions tipped off to North Korea's phony money and the lid blown off their whole deal with Syria, maybe Kim Jong Il himself started feeling hungry. I don't know, he's been hiding from he paparazzi lately, but it's a thought. Anyway, so you think ending the Cold War was a good idea? How do you chemically castrate someone? Why do some polls say Obama is like 29 points ahead and others say it's a tie? Now that the Supreme Court is starting to look like they're sort of "over" killing people, how'd they rule on the DC handgun ban? And now that he's dissed Scarlett Johansson, what beautiful and lofty thing will Obama sell out next? Those questions (and many dumber ones) answered after the jump.
MEGAN: This D.C.-based hangover case is trying to get pissed about something but all I can come up with is a sense of mild disgust that Cindy McCain cites Princess Di as an inspiration. I mean, I know between all her recipe-swiping and whatever that Cindy isn't the most creative person in the world but come on! Between this and Jackie O, can she choose more archetypes of the supportive-but-not-controversial wife to emulate to get her husband elected?

MOE: Wait, one sec, I forgot to tell you I'm doing DIRT BAG today. You know what that means? I fucking read TMZ and Page Six etc. etc. all morning. Apparently Janis Ian via David Geffen turned down an offer to do music for The Graduate. And that is what passes for a Page Six item on a Thursday in late June when Richard Johnson is on vacation!

MEGAN: Well, you go get dirrrty, I'll be here when you get back and not remotely envious of your gossip-reading.
MOE: Wait cindy mccain cites jackie as an inspiration? I thought that was Michelle's territory? And wasn't Jackie kind of controversial? Didn't she like, do drugs and give her daughters eating disorders and repress a full 90% of her emotions like all those beautiful icons of her generation??

MEGAN: Well, sure, but no one said anything about that until much later.
MEGAN: Anyway, we should probably totally talk about the whole North Korea thing briefly. Like, I sort of wonder if it's a good thing that all Kim Jong Il has to do is turn over some stuff detailed his weapons programs — without actually, you know, stopping them — and we're already lifting sanctions?
MOE: Well, what the fuck good have the sanctions done? How much thinner can they get in North Korea? I dunno…I kind of don't get the sense that we're dealing with a rational, logical guy in that Kim Jong Il. Maybe "engagement" would be kind of like the oil cleansing method of fighting breakouts. Like a "love bomb" on that show "Intervention."

MEGAN: Except that didn't we try that in the Clinton Administration? We offered them enticements, conducted negotiations and then Kim did what he wanted to do anyway which was get his hands on nukes. It's totally a no-win situation, but I guess I'm concerned in the medium- to long-term that allowing ourselves to be economically invested there could have negative repercussions on our foreign policy since it, you know, seemingly always does.
MOE: Has becoming economically interdependent with China had negative FP repercussions? I mean, sure you'll find lots of instances where that would be the case — the whole career of this guy, such as — and they haven't been exactly helpful when it comes to dealing with the DPRK, maybe some casino magnate can convince them to change their policy about sending North Korean border-crossers back to North Korea, but I'm trying to hone in on what you're saying with the "always does." Anyway in the case of North Korea is the big new concern their cooperation with Syria? I still haven't read the story. I'll do that now. Also we should maybe discuss child rapists and FISA.