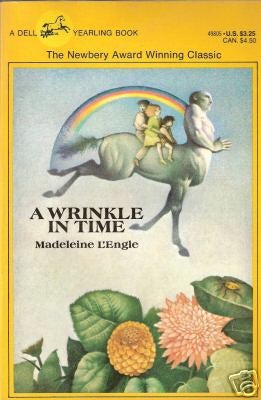 Welcome to 'Fine Lines', the Friday feature in which we give a sentimental, sometimes-critical, far more wizened look at the children's and YA books we loved in our youth. This week, writer / reviewer / blogger Lizzie Skurnick rereads 'A Wrinkle In Time', Madeleine L'Engle's 1962 novel of Meg Murry, who is too young to have wrinkles.
It was a dark and stormy night.
If I had my way, none of us would have to read this review at all. Instead, we'd join hands, hear a great dark thunderclap, and be whisked off to a rambling house in the country, where we'd view odd things bubbling in a lab with a stone floor, then eat limburger-and-cream-cheese sandwiches while swinging our legs at the kitchen table. We'd sidestep for a moment onto a planet inhabited by gentle gray creatures with dents for eyes, then be inserted into some mitochondria. We battle for the soul of Madoc /Maddox, and eat small crayfish with our lesbian kind-of aunt who insisted on calling us our full name (Polyhymnia). We'd hop on a freighter and solve a mystery, then go to boarding school in Switzerland. We would make a brief detour on the Upper West Side by way of Portugal, and be concerned with cell regeneration in starfish. We'd be smacked on the ass by a dolphin. Most important, whatever happened, we'd know we could get through it-because we are creatures that can love.
GOD, HOW MUCH DOES IT KILL ME THAT WE CAN'T DO THOSE THINGS, ESPECIALLY THE DOLPHIN PART! But, as Mrs. Who would have us recall Dante saying, Come t'e picciol fallow amaro morso! (What grievous pain a little fault doth give thee!) For here we are finally, located at the miraculous creation of Meg Murry (Madeleine L'Engle: Das Werk lobt den Meister! The work proves the craftsman!). Meg, the first heroine to endear herself to the reader by way of atom rearrangement.
For those readers who don't know-and I can't imagine there are many, but just for the record-A Wrinkle in Time is the story of Meg Murry-bespectacled, easily angered, brilliant at math-the first in a line of L'Engle heroines who flit across the boundaries of space and time, even more flummoxed by adolescence than they are by being whipsawed across the universe. (Which they are generally, just to complicate things, in the process of saving.) In AWIT, Meg, joined by her neighbor (and future husbs!!!) Calvin O'Keefe and her quietly remarkable younger brother Charles Wallace, hop-stops her way through a number of only occasionally hospitable galaxies, searching for her father in the shadow of the Dark Thing, the shadow of evil threatening to overtake Earth, and all of creation.
And that's it for those of you who haven't read the book. (Just stab me in the eye; it's less painful.) For the rest, first off, I am embarrassed to say that, swooning over memories of red-tinged, Sloppy Joe brains and calm, fragrant creatures with dents for eyes (Aunt Beast!), I had entirely forgotten that, when we first come across the studious, brilliant, Murray family, they-and Meg in particular-are in somewhat of a crisis. Not only has Meg just gotten into an enormous fight, black eye included, on the way home from school with some boys teasing her about her "dumb baby brother," but her father is missing-a fact which the town is only too happy to snidely remind her of. Here's Meg with her school principal, sullenly hating life in the hall:
"Meg, don't you think you'd make a better adjustment to life if you faced facts?"

"I do face facts," Meg said. "They're lots easier to face than people, I can tell you."

"Then why don't you face facts about your father?"

"You leave my father out of it!" Meg shouted.

"Stop bellowing," Mr. Jenkins said sharply. "Do you want the entire school to hear you?"

"So what?" Meg demanded. "I'm not ashamed of anything I'm saying. Are you?"
Am I the only one who'd forgotten that Meg has a) a bad attitude and b) is therefore, as yet unbeknownst to her, kind of a badass? Unfortunately for Meg, at that age, being a badass feels closer to, "I hate myself and would like to die." As the novel begins, alone in the bathroom, Meg tells her cat, "Just be glad you're a kitten and not a monster like me," then looks in the mirror and makes "a horrible face, baring a mouthful of teeth covered with braces."
The problem for Meg is that, like Vicky Austin, she is surrounded by people who know exactly who they are. First are her younger brothers: "The twins didn't have any problems....They were strong and fast runners and good at games, and when cracks were made about anybody in the Murry family, they weren't made about Sandy and Dennys." Then there's her mother, who's both beautiful, kind, and a brilliant scientist. (Meg snorts at the idea her mother's looks or accomplishments are ordinary, although her mother, also enragingly modest, assures her they are.) Youngest brother Charles Wallace may have issues on the vast social stage of their country town ("Thinking I'm a moron gives people something to be smug about"), but only because being brilliant, psychic and self-assured before reaching 5 feet never plays well on the playground. (FYI, Charles Wallace is the only preternaturally wise child I've ever been able to stand, in literature. Maybe that's why I can't stand the other ones—they're NOT Charles Wallace.) Even their neighbor Calvin O'Keefe, who Meg thinks of only as a popular, well-adjusted basketball player, only pretends to be-he, like Charles, is both bright and highly attuned to unseen currents.