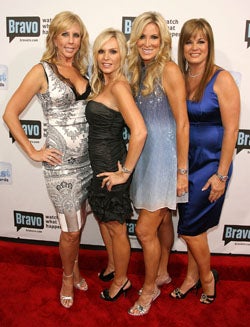 Wow, that headline really wrote itself! Last night, the First Annual A-List Awards were held at the Hammerstein Ballroom in New York. The usual suspects - Full-time Bravo wit Kathy Griffin, "Top" stuff, housewives from various zip codes, Tim Gunn - and, um, seemingly no one else, showed up in uninspiring outfits. It kind of looks like the most awesome time ever. Lackluster red carpet, post-jump.
The Good:




Nikki Blonsky is adorable and I want this outfit.




Padma, obviously, brings it.
Niki Taylor looks lovely and curvaceous.
I think emcee Kathy Griffin, while not terribly adventurous, looked elegant and confident all evening.
Model Holly Kiser: Has a pretty dress, is a rather narrow woman.
Let's ignore Rachel Zoe's bitch face, shall we? Can we? The gown is great.
Stephanie Bulger (yes, another model) is a candidate for best-dressed (in, granted, a pretty shallow pool.)
The Bad:
It's tragic when dresses are both tacky and boring. Karina Smirnoff's apronish frock achieves this.
As a short woman, I can tell Michelle "Mochi" Camaya that white boots of that height/standing next to the really tall Step it Up and Dance guy who was always making a big point out of being straight, makes one look even shorter.
Hey, remember Sunday's MTV Movie Awards, when Tila Tequila was the most elegant, best-dressed woman there? All's now right with the world.