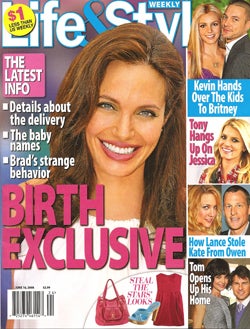 Welcome back to Midweek Madness, in which we suffer the indignity of reading the weekly tabloids so you don't have to. The gossip has been sort of slow lately, and we are starving for hot, delicious celebrity scandal. But what do we get? The same old reheated stories. This week, Angie's "BIRTH EXCLUSIVE" is that she did not, in fact, give birth, but expects to. Saint Angelina "wins" two covers; Jessica Simpson "wins" the other two, and the fifth is Charlie Sheen and his snoozeville wedding. We hungrily seek satisfying sustenance and tasty tales in Us, OK!, Life & Style, In Touch and Star, after the jump.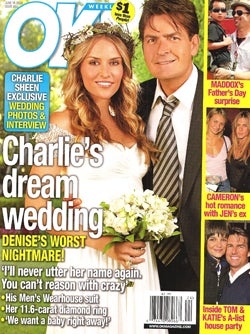 OK!
"Charlie's Dream Wedding." Charlie Sheen wed Brooke Mueller at a private estate in Beverly Hills on May 30.
He wore a Men's Wearhouse suit
; she wore a white dress by Reem Acra. Brooke's friend sang the Beatles' "Let It Be" during the reception. Yawn. Moving on:
Lindsay Lohan's sister Ali was heard giving Sam Ronson makeup tips at a restaurant.
Reminder: She's 14, Sam is 30. Jessica Simpson is going to release the first single from her country album and might want Tony Romo to be in the video.
Ashley Olsen has learned to smile
(Fig. 1). The "curviest" bikini bodies are Pink, Blake Lively and Elisha Cuthbert. Lastly, Audrina from
The Hills
says, "I am not an attention whore. I am not going to release naked photos of myself just to get attention. I'd rather get different attention and be respected." Too late for that!
Grade: F (crackers)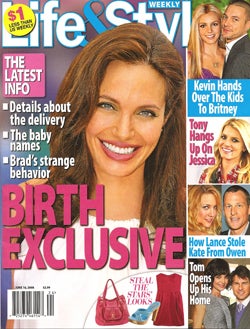 Life & Style
"Birth Exclusive." Guess what?
There is nothing exclusive in this story.
Angelina has not had the twins yet, but she hasn't been photographed because she's resting after her busy Cannes schedule. Moving on:
Instead of having the bodyguard drop off the kids with Britney, Kevin Federline did it himself!
Like he has anything else to do. Oh, but Kevin is serious about his acting career: A pal says he's been offered several roles in films shooting abroad but can't go because of the custody situation, boo fucking hoo. The "Jessica Smiles Through The Pain" story is about how during a phone call with Tony Romo, he said he had to go and hung up on her. Stay strong! At Tom and Katie's housewarming party, the line to get in was "ridiculous," says a partygoer, "because Tom and Katie stood at the door in matching white outfits and greeted each guest as they came in."
An insider claims George Clooney broke up with Sarah Larson because he has a short attention span.
America's Next Top Model
CariDee English denies the rumor that she tried to kill herself: Apparently she mixed anxiety pills with alcohol and made a brief stop-in at the hospital. Here's how Lance Armstrong stole Kate Hudson from Owen Wilson: He found out the things about Owen that bothered Kate and used them to his advantage. Lance wined and dined her (Owen is not romantic) and he went public with their relationship (with Owen, Kate always had to hide). Lastly: Knocked-up Ashlee Simpson is "struggling" with her figure, because duh, she is pregnant. But she's not even showing.
Grade: D (clear chicken broth)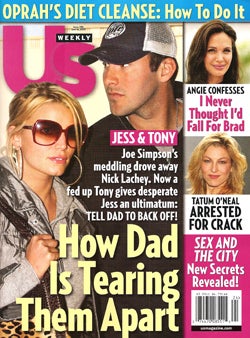 Us
"How Dad Is Tearing Them Apart" Jessica Simpson and Tony Romo have a third person in their relationship and he is Papa Joe Simpson. This is not news. But! Pete Wentz was DJing an event and he gave a shout out to Joe: "Yo yo yo! This goes out to Joe Simpson, my new father-in-law." Then he played Huey Lewis' "The Power Of Love" and Papa said, "I feel the power of love for you, and everyone else should too." Jesus. Moving on: There's a pull-out chart called "Hollywood High: Who's Friends With Whom?" Angelina and Brad's circle overlaps with Nicole and Joel's! Jay-Z and Gwyneth Paltrow are buddies (Fig. 2)! Post- George Clooney breakup, Sarah Larson is "definitely not grieving", sources say. She was seen laughing and texting and hanging with Jessica Simpson. Also inside: SATC secrets: the "Love" keychain Louise gave Carrie was by H. Stern and costs $6,800 — making it far more expensive than the fugly $5,400 LV bag Carrie gave her. Oprah is on a vegan diet! She is not having sugar, alcohol caffeine or gluten, either.
Grade: D+ (carrot stick)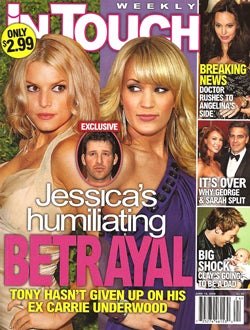 In Touch
"Jessica's Humiliating Betrayal." Jess is jealous because Tony talks to Carrie Underwood. Jessica and jealousy issues go hand in hand. Thrilling, right? Moving on: Harlow Madden has reconnected Joel and Nicole with their families. Baby power! Heidi Montag and Spencer Pratt have made $3 million in 2 years from "tacky magazine deals." Last week's Us cover where Heidi is wearing a veil and an undershirt earned her $350,000 — but she has to provide three more stories for the mag to get the cash. Speidi's music career, however, has earned zero dollars. Also inside: Angelina went to bed with orange juice with sugar to stabilize her glucose levels after fainting. She is always "collapsing." Post-pregnancy Christina Aguilera loves to party (Fig. 3)! Linda Hogan is dating a 19-year-old who used to clean the family boat. Minka Kelly is dating Derek Jeter, which means she may now have herpes.
Grade: C- (wilted salad)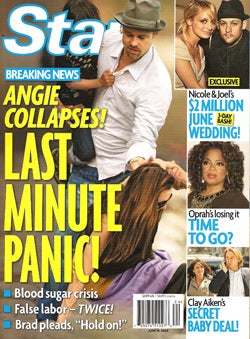 Star
"Angie Collapses! Last Minute Panic!" You've gotta love how they are using this month-old picture of Angie sitting on the beach to illustrate her "collapse." But apparently she swooned and collapsed in the French chateau. Moving on: Kathy Griffin says she is a "space whore" because she used to live in a small apartment and as soon as she started making money, she bought the biggest house she could. Katherine Heigl is a "cyberchondriac" — she is addicted to WebMD. Hubs Josh is tired of her thinking she is sick all the time. Um, also, doesn't she work on a medical show? John Mayer gave Jennifer Aniston a Blackberry, and she found it to be a cheap and unromantic gift because his tour is sponsored by Blackberry. Blind item! "Which newlywed rocker is freaking out over his newly married state? He loves his wife, but think it's all happened too fast and friends don't know if he is really ready to be a committed husband." Shia LaBeouf's dad lives in Shia's garage on an air mattress. Nicole and Joel are planning a $2 million three-day wedding. It should happen on June 27-29. There will be a Pretty In Pink-themed bachelorette party and the bride will wear a champagne-hued gown. Also: After 24 years, is it time for Oprah to step down? There's a backlash! Ooh, crazy: Jamie Spears is offering $14.5 million to Kevin Federline if he will remarry Britney. Jamie thinks that Kevin is a stabilizing influence on Brit and "he completes her." Kevin is holding out for $20 million and no pre-nup. Good luck. Sarah Larson says she broke up with George Clooney because he runs hot and cold with her and she couldn't take it any more. Tom and Katie's housewarming had 600 cupcakes from Sprinkles, Katie's favorite bakery. Kenny Chesney is back with Allison Stewart, his longtime girlfriend who he was with when the news broke in 2005 that he'd married Renee Zellweger. That marriage ended in "fraud," which neither of them ever explained. Miley Cyrus is grounded for having a bad attitude, talking back and flirting on the internet with boys and older men. Normal behavior for a 15 year old? Lastly, there's a six page story on broken engagements, including Nicole Richie and DJ AM, Ben Affleck and Jennifer Lopez, David Moscow and Kerry Washington.
Grade: C (microwaved french fries)
Fig. 1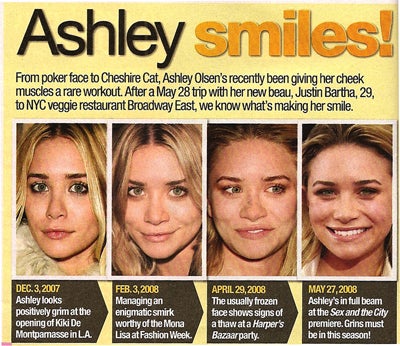 Fig. 2 (click to enlarge)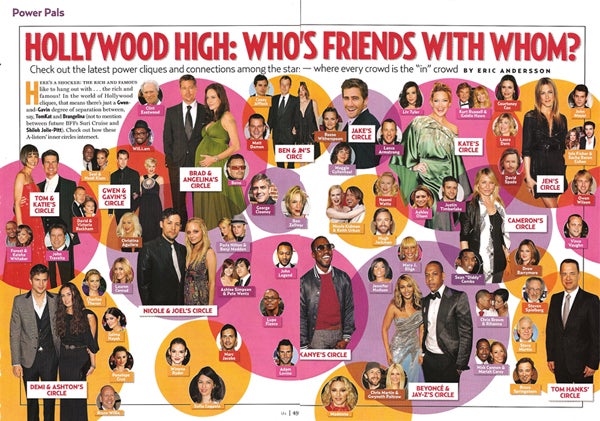 Fig. 3