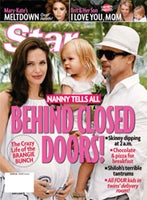 Star finally arrived! Here's what's inside: Life with "The Brangie Bunch" is "chaos." Angelina doesn't believe in oppressive restrictions, so her kids don't have many rules. Brad indulges the kids: When preparing meals, instead of telling them what they're getting, he asks them what they want. Also, Maddox speaks French to his parents, even though Brad doesn't understand it and Angie is "rusty." But! Brad and Angelina will not permit the kids to be brats. They must always say please and thank you and conflicts are discussed as a group. Oh, and Angelina craves chocolate, as seen by the picture of her fingering Toblerone (Fig. 1). Also inside: There's trouble in paradise for Penelope Cruz and Javier Bardem! He has "deep, deep demons" and needs some space. She's gonna wait for him to get it together. Tom Cruise has Nike sneakers with a thick sole that makes him an inch taller.
Blind item! "Which star of a top-rated TV dramedy has been cheating on his wife for the past eight months with a very young employee at a members-only gentleman's club in Beverly Hills?" Harrison Ford won't marry Calista Flockhart because he's been burned twice in two expensive divorces.
Mary-Kate Olsen is on the verge of a breakdown
; ever since Heath Ledger died she has been "living in a dark place," a source says.
Grade: D+, with a tardy slip.
Fig. 1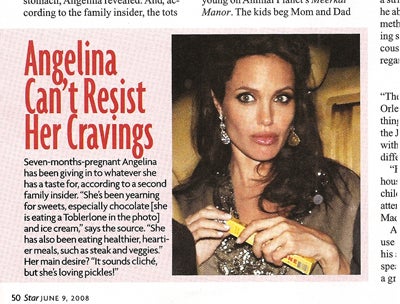 Earlier: This Week In Tabloids: Shiloh Is Lonely, Heidi Is Pre-engaged, Star Is Missing