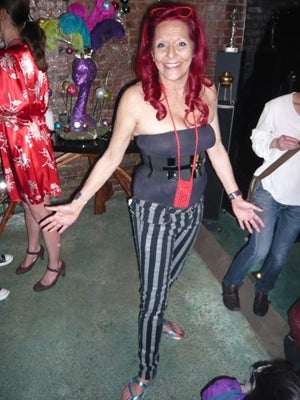 When you think about it, the pairing of Patricia Field and Payless Shoes makes perfect sense. The stylist for Sex And The City was once known for her crazy, colorful eponymous downtown store where clubkids and drag queens could shop for the kind of mesh/pleather/day-glo ensembles not found at Banana Republic. It was a little tacky, pretty cheap, and lots of fun, which describes Payless Shoes, too. Last night I dragged Moe to the launch party for Patricia Field for Payless, where we saw Ms. Pat Field herself (at left) as well as Andre J., the bearded muse seen in French Vogue. We drank, we tried on shoes, we went home in a wheelchair. Plenty of pictures, after the jump.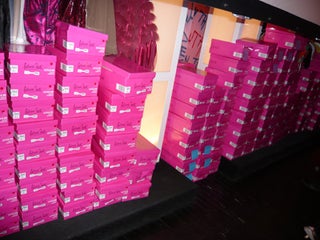 S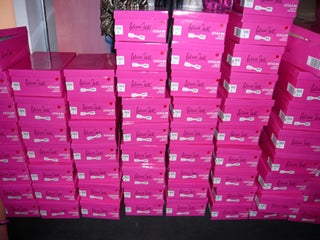 S
There were shoes everywhere. Literally everywhere. The hired help was encouraging you to try them on.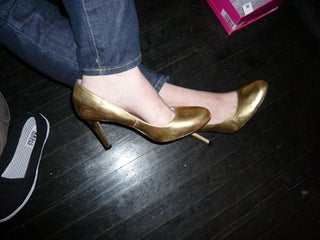 S
Moe kicked off her Marxist-issue flats and tried on some gold pumps.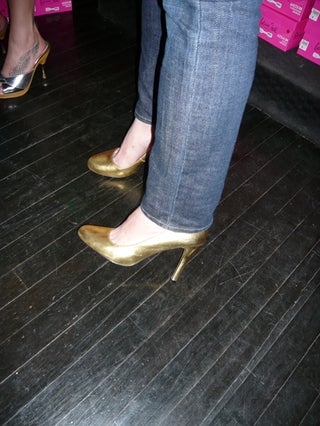 S
They looked good.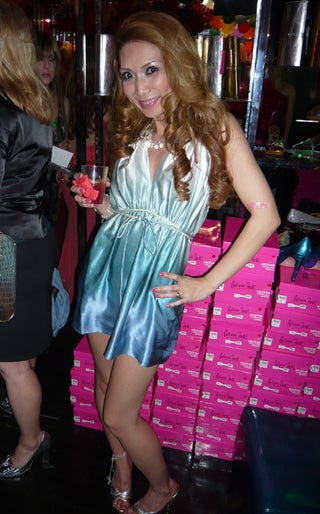 S
This young lady encouraged me to try on the mules she was wearing. I told her I wore a 9. "You should go one size down, it looks better," she said.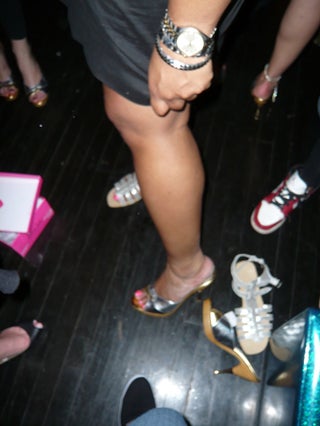 S
Maybe it looked good, but it did not feel good. By the by, this pic is fuzzy because Moe has no focus. Kidding!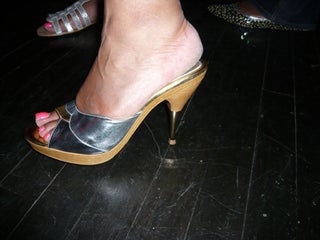 S
Yeah, I need a bigger size. Please do not look at my cracked heels.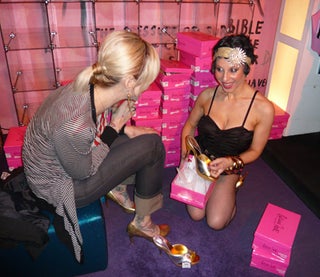 S
This is Theo from the Lunachicks (now of Theo and the SkyScrapers) trying on the pumps. The woman assisting her had on the cutest little retro swimsuit.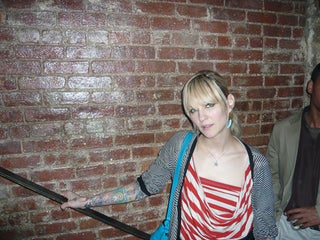 S
Theo is kind of gorgeous.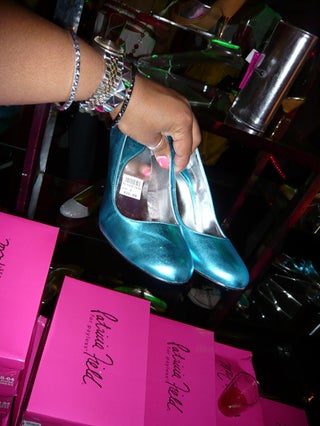 S
The pumps also come in electric blue.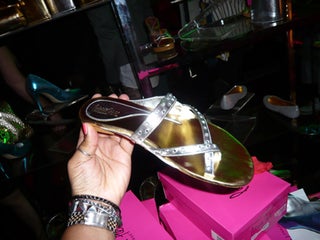 S
There are also flat sandals which maybe would hurt less.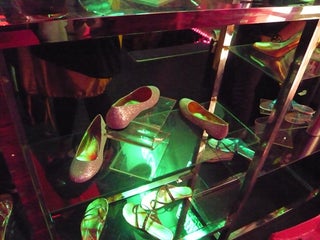 S
And glittery ballet slippers.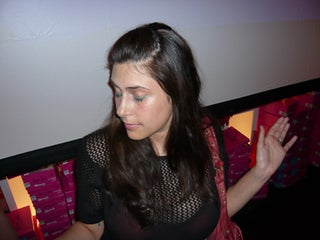 S
We ran into Claw Money. Moe asked about her eyeliner and Ms. Money informed us that it was Wet N Wild. "That seems appropriate," Moe nodded.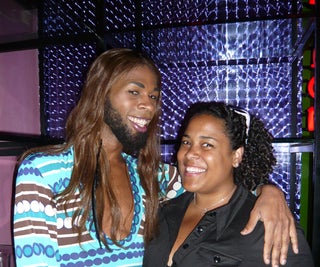 S
OMG Andre J! He was willowy and gorgeous, making me feel like a large troll next to him. You may not be able to tell, but I was thrilled to be in his presence. Moe asked him what size shoe he wears and he was like "Honey!" with a raised eyebrow that meant he would never tell. Moe said, "Well, at least they have it." And he said, "Exactly. I love you."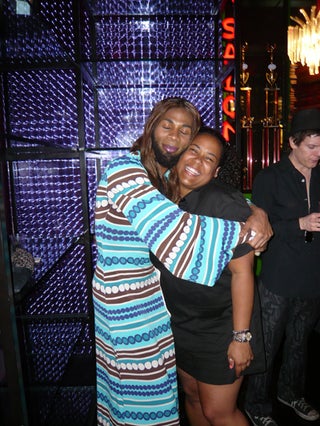 S
He embraced me.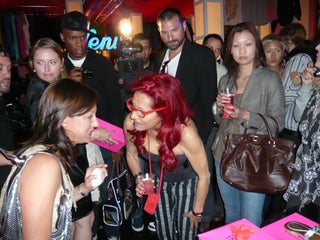 S
Pat Field was in the center of this clusterfuck.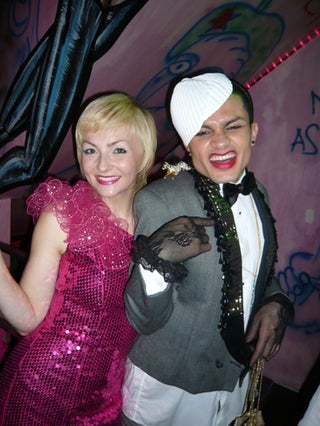 S
Please note the crystal-covered kitty attached to this gentleman's shoulder.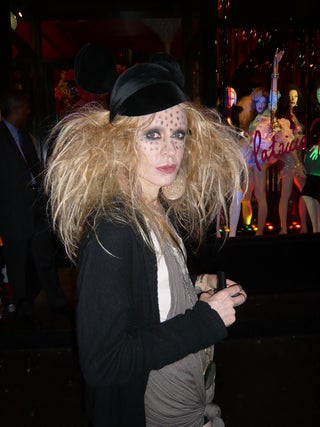 S
The legendary KennyKenny worked the door.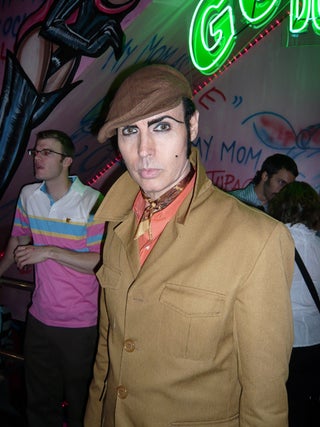 S
Patrick McDonald. He's always in the New York Times.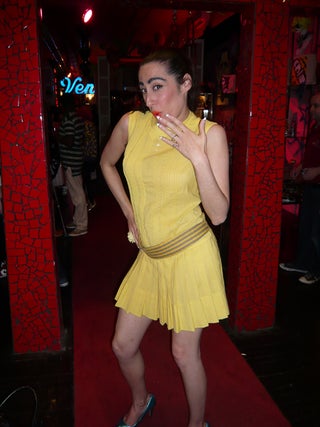 S
You can't see it in this photo, but this woman had dark, thick, bushy, luxurious armpit hair which she pretended to lick for some guy filming.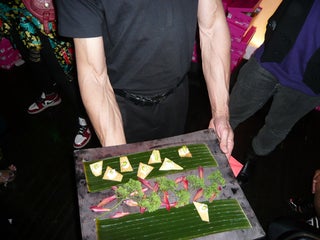 S
This is what party people eat.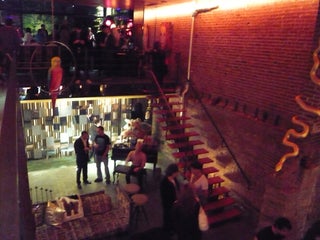 S
The after-party was at Pat Field's house down the block. I want to live here so badly. Like, on a scale of 1-10, my desire is hovering around 37 million.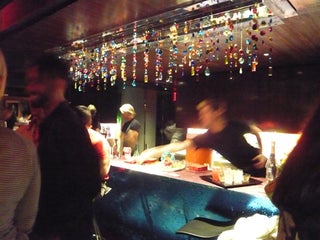 S
Yes, it does have a bar.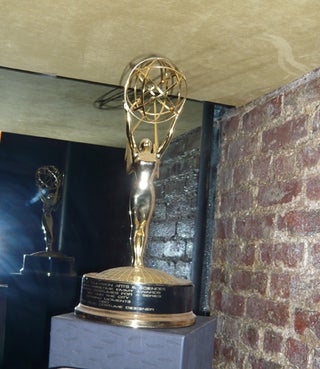 S
This is Pat Field's Emmy!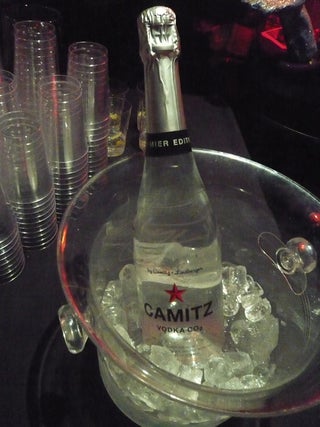 S
There was sparkling vodka at the party. Sparkling. Vodka. WTF.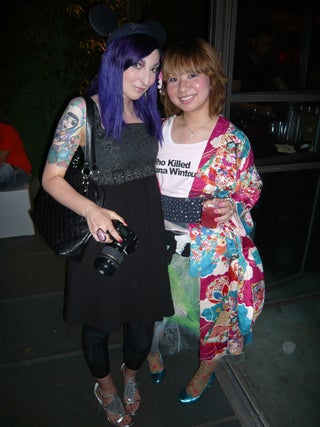 S
These girls were cute and had cute accents. We've seen this shirt before.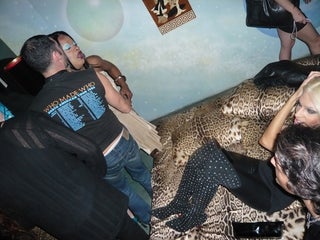 S
I don't know where to begin. So many things, starting with the knee-high boots.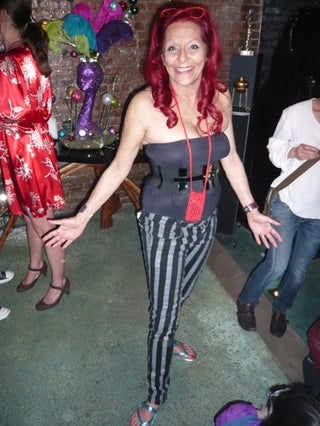 S
Patricia Field is so awesome. Sure, she's the woman responsible for the damn flowers Carrie always wore. But she's also a gay woman of a certain age with Manic Panic hair and a fierce career. I wish Sex And The City were about her and her glam tranny friends instead. That would be amazing.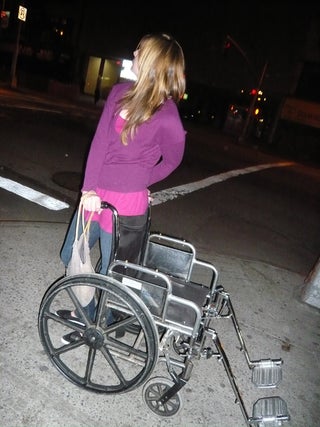 S
As we left, Moe and I found an abandoned wheelchair on the street. We could have left it there, or we could have drunkenly pushed each other home. What do you think we did?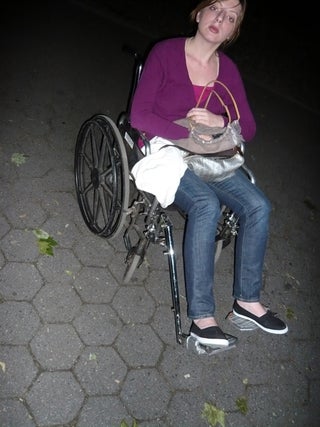 S


Patricia Field For Payless [Payless Shoesource]