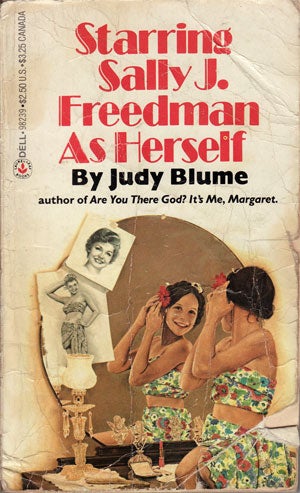 Welcome to 'Fine Lines', the Friday feature in which we give a sentimental, sometimes-critical, far more wrinkled look at the children's and YA books we loved in our youth. This week, writer / reviewer / blogger Lizzie Skurnick rereads 'Starring Sally J. Freedman As Herself', Judy Blume's 1977 story of Sally Freedman, who, following WWII, spends a year in Miami and triumphs over Hitler and Man O' Wars.
"Can I have another jelly sandwich?" Sally asked her grandmother, Ma Fanny. They were in the kitchen of the room house, sitting on opposite sides of the big wooden table.



"Such big eyes!" Ma Fanny said, laughing. "You still have half a sandwich left."
Okay, everyone, quick poll: raise your hand if, after V-Day, you want your brother to get sick with nephritis so your dentist father can send you, your mom and your bubeh from NJ down to Miami for the winter to help him get better and you can go to school in a trailer and bike around being afraid that your neighbor, Mr. Zavosky, is Hitler, while you get your braid tugged by a boy you only later figure out you like and your grandmother calls you "mumeshana" and you dream of your dead cousins, Lila and Tante Rose, killed in the Holocaust, and you drink cocoa with whiskey because you're trying to make the creme de cacao your Mom drank in Cuba, and then you get stung by a Man O' War and complimented by said brother on being braver than he thought and catch Virus X and eat two bowls of chicken with rice soup, then try on some toe shoes.
For those who didn't do last week's assigned reading (or, you know, read the preceding paragraph), Blume's wondrous near-autobiography is the story of one Sally J. Freedman, whose father (dubbed neither my mistaken last week's "Dodo-bird" nor "Dooey-bird" but in fact "Doey-bird") moves the rest of the family from N.J. to Miami after the end of the war for one year when Douglas, the older son, needs to recover from a bout of nephritis. Thus ensconced in the Sun Belt with her mother and Ma Fanny, Sally embarks on a series of adventures that only another girl could understand are true adventures, including getting nits, having a friend fall on a bike, getting stung by a man o' war, washing diamonds with a hotsie-totsie in the Ladies Room, having her neighbor get knocked up by a goy, and discovering her neighbor is Hitler.