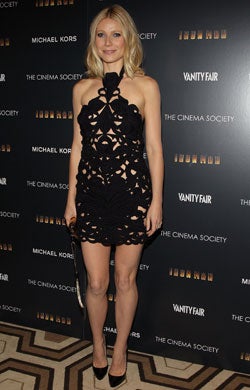 I'm sick of fine presidents and good presidents and mediocre presidents. I'm sick of Rutherford B. Hayes and James Buchanan and Franklin Pierce and Millard Fillmore. We got Barack Obama! Barack Obama, for crying out loud!
That's Win Butler, lead singer of the Arcade Fire and a supporting character in a New York Observer piece predictably self-consciously devoid of the word "hipster." Which is to say, it's a story about my generation and how we hate ourselves but love Barack Obama despite our fears of being associated with the "naive moron vote," or something. The thing is long and reference-redolent but if you're feeling free-associative the tags are BARACK OBAMA and STYLE and BELLE AND SEBASTIAN and GWYNETH PALTROW and THE ARCADE FIRE and TWEE and I scrolled far enough to read "Keith Gessen" and "McSweeney's" when it occurred to me that if there is one thing I'm kind of over w/r/t my generation it's parsing trend stories uselessly analyzing its uselessness in the New York Observer. (Although: no I have never dropped in on a game of pickup basketball.) Look, Thomas Frank's Wall Street Journal column on income inequality is probably a more worthwhile read, because even though Thomas Frank was once associated with anachronistic typefaces I don't think he was ever called "twee," and neither has Megan, who talks sturm und earthquake and minimum wage labor with me ATJ.
MOE: Ok I guess we should start this now. I heard a commentwhore war broke out in the comments last night so uh...thanks bro, for caring enough to defend my glib assertions that West Virginia's margins have something to do with the stuff like how "Two in 10 white West Virginia voters said race was an important factor in their votes. More than 8 in 10 who said it factored in their votes backed Mrs. Clinton, according to exit polls," according to the New York Times

MOE: In other news the someone else on the McCain team has worked to burnish the image of global democracy underminers who are worse than Bush.

MEGAN: Oh, Moe, haven't you learned? There is no racism in this race, it's all just who is a better candidate. Which the 65% of people in West Virginia determined through a thorough analysis of the two candidates' positions on a variety of issues, including health care, the War in Iraq, their economic stimulus plans, their divergent opinions on the gas tax holiday and not even a little bit based on emails saying that he's a Muslim who hates this country and, oh, by the way, belongs to a church that excludes white people so that they can better plot against us.

8:50 AM

MOE: Assuming you saw Pareene's clip re this meme.

MEGAN: Yeah, shit, Alex, dammit, we don't want them back. We already fucking carry Richmond and Hampton Roads and shit, we don't need Charleston and whatever the other towns in the state are called.

MOE: I have gotten to the point where I cannot even have this argument drunk at a bar but some black people too sense a conspiracy afoot in those overwhelming margins. Not just like, "hey, a first black president, cool," but CODE WORDS FROM MALCOLM X

8:55 AM

MEGAN: I feel dirtier having read that, actually

MEGAN: Like, wow, viscerally dislike anyone much based on nothing more than your own personal taste?

MOE: In other news, your Day In Disaster: Burma is getting another storm and China's earthquake is

exposing a widening wealth gap. Because now that the poor are all buried under their crappy communist construction there seem to be a lot fewer people.